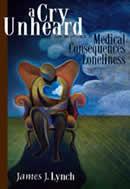 Amazon Review
We're a lonely society. Twenty-five percent of American households consist of one person living alone; 50 percent of American marriages end in divorce (affecting more than a million children); 30 percent of American births in 1991 were to unmarried women. These factors are linked to an increased risk of premature death, according to loneliness specialist James J. Lynch, Ph.D., who has spent almost four decades clarifying how loneliness contributes to a marked increased risk of developing premature coronary heart disease. "Mortality rates in the United States for all causes of death, and not just for heart disease, are consistently higher for divorced, single, and widowed individuals of both sexes and all races," writes Lynch in A Cry Unheard: New Insights into the Medical Consequences of Loneliness.
An important point in this book is that loneliness in childhood has "a significant impact on the incidence of serious disease and premature death decades later in adulthood." School failure is a major contributor to this problem. Children who fail in school are socially isolated and deficient in the language and communications skills that could help them overcome their isolation. Lynch also explores the links between loneliness and premature death, and describes the biological power of human dialogue–which, he says, is more intimate than sexual intercourse, because dialogue involves the heart, not just the body. This is not a fluffy, feel-good book. There are no quick tips, no instant relief from loneliness, no "do now" lists of activities. This book is for readers willing to delve into the subject of loneliness and health risk. Lynch wants you to understand the magnitude of the problem, which he presents in a style that is both academic (with plenty of statistics and graphs) and accessible. He also wants you to understand the complex solution: contact, companionship, and communication. –Joan Price
[collapse]
Praise
 "In the field of mind/body medicine, Dr. James Lynch is one of the true pioneers. His classic The Broken Heart, one of this field's most important books, was far, far ahead of its time, and helped inspire my own work. This new follow-up to The Broken Heart should encourage everyone to begin healing their hearts— physically, emotionally, and spiritually." —DEAN ORNISH, M.D., Preventive Medicine Research Institute, University of California Medical School, and author, Love & Survival and Dr. Dean Ornish's Program for Reversing Heart Disease
"This is a gem of a book that deserves wide readership, because virtually everyone is personally involved in its contents. The author has devoted a great deal of time and highly productive effort to gathering his material and has presented it so well that it makes for very easy reading. I recommend it highly as a valuable and immensely illuminating experience." —RAY ROSENMAN, M.D., author, Type A Behavior and Your Heart
"On the silver anniversary of the publication of The Broken Heart comes this major new book, which should be received as an elegant gift of pure gold. Just the chapters on the links between educational failure, its consequent loneliness, and the stunning increased vulnerabilty to premature death decades later are enough to make this must reading for every parent, teacher, and policy maker in our nation." —PAUL ROSCH, M.D., President, the American Institute of Stress
"A pioneer in the field of mind/body/interpersonal medicine has given us an updated, useful, and wise prescription for better health and well-being." — HERBERT BENSON, M.D., President, Mind/Body Medical Institute, Harvard University, and author, The Relaxation Response and Timeless Healing
"Just when many people expected that high-tech medicine would be our salvation, an avalanche of evidence is showing that our health is highly dependent on our loving connections with others. Love, connectedness, and empathy are not just feel-good issues; they are life-and-death factors for everyone. Dr. James Lynch is THE authority in this field. If we expect to live long, healthy lives, we must come to terms with the information in this landmark book. " —LARRY DOSSEY, M.D., best-selling author of Reinventing Medicine, and editor of the medical journal Alternative Therapies
"James Lynch is one of the pioneers of the so-called 'humanistic' approach to medicine — the belief that the human organism is not merely a machine to be repaired but a person to be respected. His The Broken Heart, which argued that heart disease and loneliness were intimately correlated, went on to become one of the most important and successful publications of its kind. Now in A Cry Unheard, he returns with more evidence that failure and loss have a powerful impact on heart disease and blood pressure, and that the touch of a friendly human hand can have an enormous effect on an ailing patient. In particular, he demonstrates that school failure dooms many to a life of guilt and pain and sickness. American medicine has been forced to take his work and that of similar pioneers seriously. Now, in his second masterpiece, American education will have to listen to him, too." —ANDREW M. GREELEY, best-selling novelist, columnist, and sociologist.
"In his first book, The Broken Heart, James Lynch began a sea change in modern medicine that anticipated the whole holistic therapy movement. His demonstration that friends, family, and community are vital necessities for continuing health and longevity was the catalyst for the rapid growth in knowledge about the health value of companion animals and contact with nature. This book, A Cry Unheard, with its wealth of new data, is absolutely required reading for all parents and school teachers, as well as anyone interested in the therapeutic value of contact with animals and nature." —AARON H. KATCHER, M.D. Emeritus Professor, The University of Pennsylvania, and author of Between Pets and People: The Importance of Animal Companionship and New Perspectives on Our Lives with Companion Animals
"Passionate and … fascinating." — Publishers Weekly "A beautiful book … As Jim Lynch tell us in A Cry Unheard, many more people are indeed living alone today and paying the price … He puts it correctly when he says loneliness is the unguarded against stalker of our day." — Dennis Wholey, Host, PBS's "This is America with Dennis Wholey" "In 1977, James J. Lynch published The Broken Heart: The Medical Consequences of Loneliness, in which he looked at the influence of loneliness on health. More than 20 years later, he has revisited the subject with new evidence that in this transient, uprooted society in which we live, those who are isolated from human warmth and contact suffer premature physical declines. He contends that electronic communication has devalued human contact and weakened social skills, in part by substituting computer-based learning for the human contact of traditional teaching. The new cyber-society, he says, is fostering a generation of 'detached, independent, self-sufficient, non-committed individuals,' often social outcasts, who go on to lead unhealthy, detached lives. Lynch offers scientific studies, complete with charts and statistics, to substantiate links among social isolation, heart disease risks, and premature death. He also reviews cases of heart patients he's helped by teaching them to relax, relate, and respond better to the world around them." — Jane E. Allen, Los Angeles Times "In spite of reporting a mountain of data from medical research, this book is as engaging as a novel. It is, after all, a murder mystery. There are many twists and turns in the plot, particularly because the area of research has expanded enormously over the past two decades, and of course there are many clues. Most compelling of all is the fact that each of us is a potential victim." — John C. Rhead, Ph.D., Fall 2000 issue of Voices: The Art and Science of Psychotherapy, a quarterly journal published by the American Academy of Psychotherapists, whose presidents since 1954 have included such luminaries as Carl Rogers and Rollo May "My friend, Bruce L. Bortz, the publisher at Bancroft Press in Baltimore, tells me he has published Pulitzer Prize and other award winners, 'but never have I published a better or more important book than A Cry Unheard: New Insights into the Medical Consequences of Loneliness.' I believe him. After reading Dr. James J. Lynch's excellent book, I was even more convinced that loneliness lies at the heart of premature death. Because of its very topic, it must be said that this is not light reading. Still, even a layman will find this book fascinating for the connections it makes between loneliness and health such as heart disease, and between loneliness and hurtful language by parents-toxic talk-that impacts a child's life and health well into adulthood. Even technology can exacerbate loneliness because we often are not talking to anyone anymore face to face. A Cry Unheard is a super book that deserves much success." — Alan Caruba, BookViews "Psychologist Lynch's The Broken Heart: The Medical Consequences of Loneliness (1977) was the pioneering work that linked mental and emotional states to physical well-being. In A Cry Unheard, he expands on the connection between the stress of loneliness and the state of one's health. Drawing from his own and others' research, Lynch contends that loneliness has become a silent epidemic, leading to depression and early death. He points out that parents' use of language and school failure can result in alienation and antisocial behavior, which sow the seeds of loneliness. And while we may seem more "connected" through technology, Lynch warns that technology-induced loneliness is likely to increase and result in even more medical problems. Loneliness, writes Lynch, is a lethal but avoidable poison. While not a 'how-to' book, this is worthy of inclusion in larger consumer health collections." — Library Journal "James Lynch, Ph.D, a clinical psychologist and Director of Life Care Health Associates, has done extensive research on loneliness. In his new book, A Cry Unheard: New Insights into the Medical Consequences of Loneliness, he discusses the health hazards of loneliness and its relation to heart diseases. Dr. Lynch indicates that when one speaks, blood pressure rises. He also says that there is a risk of heart attack when the topic is highly emotional and brings out anger, or if the person is having difficulty communicating. Stress, depression, and loneliness are clinically interconnected, he adds." — Maryland Public Television's "Newsnight Maryland" "An important book by a distinguished psychologist-cardiologist whose previous books, The Broken Heart and The Language of the Heart, described the social forces that participate in governing physiological functions in the cardiovascular system. A Cry Unheard focuses on the medical consequences of loneliness and documents the author's own experimental studies. His presentation is clear and very moving, and his writing extends the concept of the "Effect of Person," discovered and explained several years ago by Dr. Horsley Gantt." — Stewart Wolf, M.D., The Journal of Integrative Physiological and Behavioral Science (Dr. Wolf is former head of medicine, University of Oklahoma School of Medicine, and former director of the University of Texas Marine Biomedical Institute) "Jim Lynch's classic from a quarter century ago, The Broken Heart: The Medical Consequences of Loneliness, was so on target it could have been written yesterday. It is an eloquent and compelling portrayal of the deadly cardiovascular consequences of loss of personal relationships. It also warned that current sociological trends and changing life styles would lead to increasing social isolation, loneliness, and their associated emotional and physical disturbances. There can be little doubt about the accuracy of this prophecy. Jim Lynch's new book, A Cry Unheard, charts new territories — the root causes of loneliness and depression — and places particular emphasis on deficiencies in our educational system." — Health and Stress, the newsletter of the American Institute of Stress "Dr. James Lynch, who first drew attention to the medical consequences of loneliness in the 1970s, returns in A Cry Unheard with new information on its damaging effects, especially on heart health." — Baltimore Magazine "Congratulations on a remarkable book! I just bought two more copies as gifts and continue to tell others to read it. Ever since I read it, I have been finding news articles that reinforce your ideas." — Linda Hines, President & CEO, the Delta Society, the leading international organization for the human-animal bond—DEAN ORNISH, M.D., Preventive Medicine Research Institute, University of California Medical School, and author, Love & Survival and Dr. Dean Ornish's Program for Reversing Heart Disease "This is a gem of a book that deserves wide readership, because virtually everyone is personally involved in its contents. The author has devoted a great deal of time and highly productive effort to gathering his material and has presented it so well that it makes for very easy reading. I recommend it highly as a valuable and immensely illuminating experience." —RAY ROSENMAN, M.D., author, Type A Behavior and Your Heart "On the silver anniversary of the publication of The Broken Heart comes this major new book, which should be received as an elegant gift of pure gold. Just the chapters on the links between educational failure, its consequent loneliness, and the stunning increased vulnerabilty to premature death decades later are enough to make this must reading for every parent, teacher, and policy maker in our nation." —PAUL ROSCH, M.D., President, the American Institute of Stress "A pioneer in the field of mind/body/interpersonal medicine has given us an updated, useful, and wise prescription for better health and well-being." — HERBERT BENSON, M.D., President, Mind/Body Medical Institute, Harvard University, and author, The Relaxation Response and Timeless Healing "Just when many people expected that high-tech medicine would be our salvation, an avalanche of evidence is showing that our health is highly dependent on our loving connections with others. Love, connectedness, and empathy are not just feel-good issues; they are life-and-death factors for everyone. Dr. James Lynch is THE authority in this field. If we expect to live long, healthy lives, we must come to terms with the information in this landmark book. " —LARRY DOSSEY, M.D., best-selling author of Reinventing Medicine, and editor of the medical journal Alternative Therapies "James Lynch is one of the pioneers of the so-called 'humanistic' approach to medicine — the belief that the human organism is not merely a machine to be repaired but a person to be respected. His The Broken Heart, which argued that heart disease and loneliness were intimately correlated, went on to become one of the most important and successful publications of its kind. Now in A Cry Unheard, he returns with more evidence that failure and loss have a powerful impact on heart disease and blood pressure, and that the touch of a friendly human hand can have an enormous effect on an ailing patient. In particular, he demonstrates that school failure dooms many to a life of guilt and pain and sickness. American medicine has been forced to take his work and that of similar pioneers seriously. Now, in his second masterpiece, American education will have to listen to him, too." —ANDREW M. GREELEY, best-selling novelist, columnist, and sociologist In his first book, The Broken Heart, James Lynch began a sea change in modern medicine that anticipated the whole holistic therapy movement. His demonstration that friends, family, and community are vital necessities for continuing health and longevity was the catalyst for the rapid growth in knowledge about the health value of companion animals and contact with nature. This book, A Cry Unheard, with its wealth of new data, is absolutely required reading for all parents and school teachers, as well as anyone interested in the therapeutic value of contact with animals and nature." —AARON H. KATCHER, M.D. Emeritus Professor, The University of Pennsylvania, and author of Between Pets and People: The Importance of Animal Companionship and New Perspectives on Our Lives with Companion Animals "Passionate and … fascinating." — Publishers Weekly "A beautiful book … As Jim Lynch tell us in A Cry Unheard, many more people are indeed living alone today and paying the price … He puts it correctly when he says loneliness is the unguarded against stalker of our day." — Dennis Wholey, Host, PBS's "This is America with Dennis Wholey" "In 1977, James J. Lynch published The Broken Heart: The Medical Consequences of Loneliness, in which he looked at the influence of loneliness on health. More than 20 years later, he has revisited the subject with new evidence that in this transient, uprooted society in which we live, those who are isolated from human warmth and contact suffer premature physical declines. He contends that electronic communication has devalued human contact and weakened social skills, in part by substituting computer-based learning for the human contact of traditional teaching. The new cyber-society, he says, is fostering a generation of 'detached, independent, self-sufficient, non-committed individuals,' often social outcasts, who go on to lead unhealthy, detached lives. Lynch offers scientific studies, complete with charts and statistics, to substantiate links among social isolation, heart disease risks, and premature death. He also reviews cases of heart patients he's helped by teaching them to relax, relate, and respond better to the world around them." — Jane E. Allen, Los Angeles Times "In spite of reporting a mountain of data from medical research, this book is as engaging as a novel. It is, after all, a murder mystery. There are many twists and turns in the plot, particularly because the area of research has expanded enormously over the past two decades, and of course there are many clues. Most compelling of all is the fact that each of us is a potential victim." — John C. Rhead, Ph.D., Fall 2000 issue of Voices: The Art and Science of Psychotherapy, a quarterly journal published by the American Academy of Psychotherapists, whose presidents since 1954 have included such luminaries as Carl Rogers and Rollo May "My friend, Bruce L. Bortz, the publisher at Bancroft Press in Baltimore, tells me he has published Pulitzer Prize and other award winners, 'but never have I published a better or more important book than A Cry Unheard: New Insights into the Medical Consequences of Loneliness.' I believe him. After reading Dr. James J. Lynch's excellent book, I was even more convinced that loneliness lies at the heart of premature death. Because of its very topic, it must be said that this is not light reading. Still, even a layman will find this book fascinating for the connections it makes between loneliness and health such as heart disease, and between loneliness and hurtful language by parents-toxic talk-that impacts a child's life and health well into adulthood. Even technology can exacerbate loneliness because we often are not talking to anyone anymore face to face. A Cry Unheard is a super book that deserves much success." — Alan Caruba, BookViews "Psychologist Lynch's The Broken Heart: The Medical Consequences of Loneliness (1977) was the pioneering work that linked mental and emotional states to physical well-being. In A Cry Unheard, he expands on the connection between the stress of loneliness and the state of one's health. Drawing from his own and others' research, Lynch contends that loneliness has become a silent epidemic, leading to depression and early death. He points out that parents' use of language and school failure can result in alienation and antisocial behavior, which sow the seeds of loneliness. And while we may seem more "connected" through technology, Lynch warns that technology-induced loneliness is likely to increase and result in even more medical problems. Loneliness, writes Lynch, is a lethal but avoidable poison. While not a 'how-to' book, this is worthy of inclusion in larger consumer health collections." — Library Journal "James Lynch, Ph.D, a clinical psychologist and Director of Life Care Health Associates, has done extensive research on loneliness. In his new book, A Cry Unheard: New Insights into the Medical Consequences of Loneliness, he discusses the health hazards of loneliness and its relation to heart diseases. Dr. Lynch indicates that when one speaks, blood pressure rises. He also says that there is a risk of heart attack when the topic is highly emotional and brings out anger, or if the person is having difficulty communicating. Stress, depression, and loneliness are clinically interconnected, he adds." — Maryland Public Television's "Newsnight Maryland" "An important book by a distinguished psychologist-cardiologist whose previous books, The Broken Heart and The Language of the Heart, described the social forces that participate in governing physiological functions in the cardiovascular system. A Cry Unheard focuses on the medical consequences of loneliness and documents the author's own experimental studies. His presentation is clear and very moving, and his writing extends the concept of the "Effect of Person," discovered and explained several years ago by Dr. Horsley Gantt." — Stewart Wolf, M.D., The Journal of Integrative Physiological and Behavioral Science (Dr. Wolf is former head of medicine, University of Oklahoma School of Medicine, and former director of the University of Texas Marine Biomedical Institute) "Jim Lynch's classic from a quarter century ago, The Broken Heart: The Medical Consequences of Loneliness, was so on target it could have been written yesterday. It is an eloquent and compelling portrayal of the deadly cardiovascular consequences of loss of personal relationships. It also warned that current sociological trends and changing life styles would lead to increasing social isolation, loneliness, and their associated emotional and physical disturbances. There can be little doubt about the accuracy of this prophecy. Jim Lynch's new book, A Cry Unheard, charts new territories — the root causes of loneliness and depression — and places particular emphasis on deficiencies in our educational system." — Health and Stress, the newsletter of the American Institute of Stress "Dr. James Lynch, who first drew attention to the medical consequences of loneliness in the 1970s, returns in A Cry Unheard with new information on its damaging effects, especially on heart health." — Baltimore Magazine "Congratulations on a remarkable book! I just bought two more copies as gifts and continue to tell others to read it. Ever since I read it, I have been finding news articles that reinforce your ideas." — Linda Hines, President & CEO, the Delta Society, the leading international organization for the human-animal bond
[collapse]