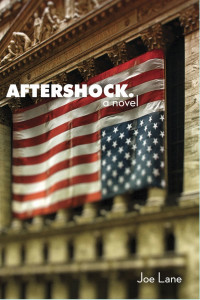 JoeLaneMedia.com
Major Penelope Baldwin, accomplished pilot and tactician, could have expected a bright future and stable military career until a dubious flight mission over Al A'Zamiyah, Iraq results in the loss of her left leg, and any opportunity for motherhood.
As Penelope struggles in recovery, her mother Evelyn struggles to secure their financial future and cover mounting medical bills. Buying the lies of disingenuous bankers and marketing shills, Evelyn places her savings within the derivatives market, a bubble that (unbeknownst to her) is on the verge of bursting. The collapse will destroy what's left of her finances, along with the investments and pensions of countless citizens.
Within months, on a wintry night in Georgia, a coked-up stock trader miscalculates a power turn in a Porsche coupe, sending its right front wheel over the curb and crashing into that which Penelope holds most dear.
The stage is set for a dedicated warrior, an American heroine, to turn her sights on those greedy, callous men responsible for ripping away her future.
Baldwin, along with Tessa Montgomery (Senior Chief USMC), Cynthia Washington (RN MSW), and six other highly competent women, all similarly devastated by the avarice, arrogance, and indifference of America's ruling elite, channel their grief and rage, and their search for justice, to become a finely orchestrated and well-financed band of predators.
Several months later, several of the most powerful of America's financial and political elite are slaughtered in forty-storied monuments to their egos. Then a terror?a terror so primal that it rends the very fabric of everyday life?is released into the homes, limos, and private jets of America's quasi-monarchical class.
An invisible society of professional predators is leading a lethal attack on the long sacred relationship between money and politics. Two critical questions are explicitly raised by the attackers: When the voice of the few, the wealthy, the privileged is the sound of the money essential for election, can the voice of the common citizen be heard at all? Can an ethical government exist when the special interests it's charged with policing have captured the political system and the means of election through their vast wealth?
How will the country's people, political leaders, and top business executives respond? Find out by reading Aftershock, a heart-thumping fictional thriller by debut novelist Joe Lane.
Joe Lane on the inspiration behind Aftershock:
"The more I learned, the more it seemed that only some truly radical change in the funding of our political system is necessary to prevent the complete erosion of our fundamental democratic institutions. The solution the women push for is the only one I believe can overpower money's stranglehold on our democracy. As long as we continue to permit the individuals and organizations with the most money to have the loudest voice in our government, we are doomed to a continued cycle of financial booms and busts where those with all that money get even more money and the rest of us get stuck with the bill for their skullduggery and collusion.
As Penelope and her band of dark hearted heroines say, 'Public funding of the entire electoral and governing processes, with very long, very sharp teeth for those who violate it, is the only avenue we everyday citizens can travel where our voice matters.' If we do not get private money out of the hands of politicians and political parties, that private wealth in the hands of individuals and corporations will continue to bend the system to its will for its exclusive benefit."
Praise for AFTERSHOCK.
"Aftershock will take you on a thrill ride you'll remember for a long time. The tension Joe Lane creates throughout the book is palpable. The characters seem real. The events feel like they really happen. And the overall experience makes for a great read!"
—Ruben Moreno, Real estate developer and electronics investor-developer, Brookline, MA

"Joe Lane is so successful in making truth and fiction ambiguous that it's difficult to believe the assassins of Aftershock aren't already amongst us. The planning and execution of the Wa women is so unbelievably plausible that one can imagine the NSA scrambling to beef up its counter-terrorism intelligence-gathering efforts after reading this book. By interweaving elements and consequences of the 2008 financial crisis into the plot, Lane's produced a story that will keep your imagination engaged and goosebumps on your skin until the very last sentence."
—Dr. Kwan Skinner, Specialist, Material Science, Fortune 100 Firm
"Can an ethical government exist when the special interests it's charged with policing use their vast wealth to buy politicians, elections, public policy, and impunity from prosecution for their rampant massive criminality? Joe Lane's Aftershock answers with a resounding no in a fanciful yet ferocious look at the bloody retribution righteously exacted by a fistful of pissed-off but highly proficient femmes who hope to improve the future by violently disrupting the cynical, corrupt status quo."
—Rick Rosenthal, Production Counsel, Emmett-Furla Films
"As a foreigner, I didn't know all that much about how the Yanks managed to cause so much financial havoc back in 2008. Aftershock provides the kind of detail you'd expect to laboriously pull out of an investigative financial piece. And the author does it in a way that makes it almost impossible to put the book down once you get started."
—Sam Wei, Senior Manager, Xue Er Sheng Enterprises, Guangdong Province, China
"Joe Lane's Aftershock is an action-packed and provoking novel that illustrates what happens when people are pushed too far by corrupt politicians and bankers. This country's financial apartheid and widening chasms of wealth are caused by epidemic levels of fraud in mortgage banking. Real and ordinary people are hurt by predatory lending, foreclosures, and investments.
—Sheri Lutz, independent bookseller, Minneapolis, MN
"Aftershock, a sensational thriller, flips the script of the 2008 financial crisis, turning the powerless into the powerful and the hunters into the hunted. Set in a political and economic landscape of corruption and inequality very much like our own, a band of female assassins quite literally go for the throats of the political and economic elite, acting out the collective rage we know so well. With unexpected turns, Aftershock sends a wave of adrenaline to the head as our darkest impulses seem more heroic than we may have guessed. With action that's paramount throughout the novel, author Joe Lane pushes us to brazenly identify with a bloody resistance, and makes us realize that the merciless fight for change may end up being a zero sum game."
—Matthew Sonnenshein, Internet and marketing specialist, New York City
"The author's way of writing had me stuck to my seat, unable to put the book down. The characters are so convincing, it's sometimes hard to accept the fact that they don't actually exist. The story is violent and clever in every way possible. Result? Readers are kept on edge, wondering what's going to happen next. There are so many twists and turns you'll be both shocked and amazed."
—Dave Buick, Scotland
"Great read. Very tense and fast-paced. Loved it!"
—Robert O'Connor, Film-maker, and Co-Director and founder, FilmOneFest
"Aftershock brings to life characters and scenarios that many of us wish existed, even if we dare not admit it to ourselves. Joe Lane does more than give us a 'what if' situation; he challenges us to reconsider what is truly right and wrong, and pushes the reader to reexamine a fundamentally flawed system that protects the powerful and punishes the weak. Don't be afraid to read it."
—Dr. Marc Liu, Internet Marketing, New York, NY
"Joe Lane's Aftershock provides a new perspective on terrorism, fleshing out a motivation (dare I say justification?) that may resonate with Western readers in a manner all too disturbing. Above all, Aftershock does what the best of political thrillers impel you to do: turn the pages to find out what happens next."
—Dr. Jon Owen Marks, CEO, Allied Urological Services, LLC, New York, NY