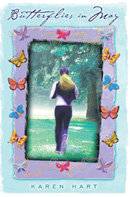 Ali Parker, a high school senior, is in love for the first time in her seventeen-year life. Her Mr. Perfect boyfriend, Matt Ryan, is a talented artist who hopes to attend Pratt Institute in New York, and Ali plans to major in journalism at a prestigious college. Both Ali and Matt are outstanding students. Their future possibilities seem endless.
Then the inconceivable happens—Ali becomes pregnant. Suddenly, her entire world shifts. Everything she was sure of changes. What should she do about this baby . . . about Matt . . . about her life? Ali is faced with the dilemma of responsibility and choice. She's supported by a fun, loyal best friend, Monica, but Ali knows that now, nothing will ever be the same again. She's abruptly and unwillingly forced into the world of adulthood as she faces the crisis of being a pregnant, unwed teenager.
As she considers her various options, Ali reveals her internal struggles honestly. As she wrestles with difficult decisions, not liking any of her choices, she learns about the tender balance of relationships while dealing with a shocked boyfriend, overbearing but loving parents, quirky teachers, and gossiping classmates. When tragedy strikes, Ali is also reminded that, while the unintentional life of a baby started so quickly within her, life can end all too quickly and unexpectedly as well.
Ali's detailed narrative is so personal and endearing, it creates a vicarious experience for any reader. This compelling, inspiring, and enlightening story engages the heart as it shows the struggles of life, the selflessness of real love, and the endurance of hope.