FOR IMMEDIATE RELEASE
Media Inquiries | Interview and Excerpt Requests:
Lorna Garano | lornagarano@gmail.com | 510-280-5397
D.C. CONFIDENTIAL
In DISPATCHES FROM THE EASTERN FRONT Gerald Felix Warburg takes us on a fascinating four-decade tour inside the U.S. Capitol, where idealists and cynics clash, and the best policymaker is equal parts dreamer, salesman, and psychologist.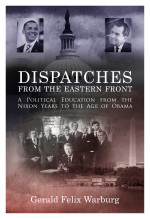 The Nuclear Non-Proliferation Act and the Anti-Apartheid Sanctions Act are just two of the landmark laws Warburg was instrumental in helping craft and enact. Warburg started his D.C. political career at 21 as a lowly intern for U.S. Senator John Tunney (D-CA) in 1975. He ended it as a precinct organizer, helping turn out the vote in key Virginia counties for Barack Obama's 2008 presidential bid. Along the way, he was deeply involved in U.S. policymaking on such issues as Soviet nuclear arms control, Israel aid, and human rights. He spent years working on the Senate floor as the defense, intelligence and foreign policy advisor to Majority Whip Alan Cranston, the California Democrat. Today, he is Professor of Public Policy and Assistant Dean at University of Virginia's Batten School of Leadership and Public Policy.
In DISPATCHES FROM THE EASTERN FRONT: A POLITICAL EDUCATION FROM THE NIXON YEARS TO THE AGE OF OBAMA (Bancroft Press, March 2014, hardcover), Gerry Warburg takes us inside decades of backroom deal-making at the Capitol, where principles are pressed by the political necessity of compromise. Unfailingly optimistic, Warburg holds firm that public service is a noble profession—one that Millennials should be encouraged to enter. Despite our government's many flaws, Warburg concludes America's democratic promise can still be fulfilled. "Just as second marriages represent the triumph of hope over experience, political memoirs should offer optimism as an antidote to the cynicism pervading most discussions about Washington," he writes. In taking us deep into the D.C. labyrinth and without glossing over its corrupt practices, Warburg equips aspiring public servants with key insights to advance positive change. For readers not Washington-bound, DISPATCHES FROM THE EASTERN FRONT offers a compelling account of idealism and realpolitik in action.
WARBURG IS AVAILABLE FOR INTERVIEWS. Topics of discussion include but are not limited to:
• How libertarians, liberals and conservatives can find common cause to unite behind a set of sweeping measures to reform Congress, lobbying and the renewed Imperial Presidency…and why Millennials should commit to years of public service.
• How a recent eye-opening trip to Israel yielded recognition that the Palestinians have become the underdog, the role once filled by the vulnerable state of Israel. A committed supporter of Israeli democracy, he argues that the occupied West Bank should be swiftly returned to the Palestinians, U.S. taxpayers should phase out all funding for Israel, and the influence of AIPAC lobbyists should be checked. He maintains that the John Kerry-led peace process gives us hope for progress.
• Why he backs President Obama's risky diplomatic initiative with Iran.
• How an unlikely coalition of grass-roots activists, campus protesters and civil rights veterans helped free Nelson Mandela, rallying the Senate to override Ronald Reagan's unwise veto of the Anti-Apartheid Act, and the surprising role played by conservative Republicans led by Senator Dick Lugar.
• How anti-nuclear activists delivered a death blow to the secretive Joint Committee on Atomic Energy, the most powerful Hill panel of the 20th century, then passed the landmark Nuclear Non-Proliferation Act halting U.S. nuclear exports…and why lessons learned from these battles are highly relevant to current nuclear challenges, from Fukushima, Japan to Iran and North Korea.
• Why leaking sensitive information to the press is an art that any committed policy maker must master—and how his own career was nearly derailed by a misstep.
• Why, on the eve of the 40th anniversary of President Nixon's resignation, he urges fellow progressives to re-think Nixon's legacy, and resist the renewal of the Imperial Presidency under their champion Barack Obama. In just one of the book's many revelations, he discusses how an anti-Reagan California liberal came, most improbably, to represent the Nixon family, bringing the Nixon Library and Museum and all the Nixon papers into the nonpartisan National Archives system.
• How he helped spirit famed Soviet dissident Andrei Sakharov's bestselling autobiography, My Life, out of the USSR in the tense months before the collapse of communism, and why he dismisses those who credit his least-favorite president, Ronald Reagan, with the demise of the Soviet Union. Warburg's inside-the-Kremlin descriptions of the last years of the Soviet Union offer new, captivating details.
On the Web
Bancroftpress.com/Dispatches-from-the-Eastern-Front
ABOUT THE AUTHOR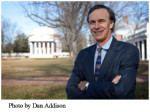 Gerry Warburg is Professor of Public Policy and an Assistant Dean at the Frank Batten School of Leadership and Public Policy at the University of Virginia. He teaches graduate school seminars in policy advocacy, national security policymaking and congressional strategy, and leads an undergraduate gateway course: "The Public Policy Challenges of the 21st Century." He served for part of three decades as Legislative Assistant to members of both U.S. House and Senate leadership, where he played a lead staff role in enacting such measures as the Nuclear Non-Proliferation Act; the Comprehensive Anti-Apartheid Sanctions Act; the Support East European Democracy Act; and legislation advancing a mutual, verifiable freeze on U.S. and Soviet nuclear weapons production.
He staffed congressional leadership delegations to the Soviet Union, China, Israel and more than a dozen nations, and served as a consultant to the Nuclear Regulatory Commission and several U.S. Democratic presidential campaigns. Formerly Executive Vice President of Cassidy & Associates, a leading Washington public affairs firm, he taught previously at the University of Pennsylvania's Annenberg School of Communication, Georgetown University's Edmund Walsh School of Foreign Service, and the Stanford-in-Washington Program.
His prior publications include Conflict and Consensus: The Struggle Between Congress and the President Over Foreign Policymaking (Harper, 1990); The Mandarin Club, a novel (Bancroft Press, 2007); chapters on Congressional policymaking and lobbying in The National Security Enterprise: Navigating the Labyrinth (Georgetown Press, 2012); and "Nonproliferation Policy Crossroads: Lessons Learned from the U.S.-India Nuclear Agreement" in Contemporary Issues in U.S. Foreign Policy (CQ Press, 2013).
A graduate from one of Hampshire College's first classes, he earned a graduate degree in political science from Stanford. A native of the San Francisco Bay Area, he lives in Virginia.
PRAISE
"Gerry Warburg's Dispatches provides a vivid, eyewitness history of our recent political past. It is an engaging narrative for anyone who likes a good story and a wonderfully practical book for politicians and public servants—or any young person considering a public service career. Terrific."
—John Casey, Winner of the National Book Award for Spartina
"The rarest of books about Washington, Dispatches is honest, without pretension or ulterior motive. A thoughtful and sophisticated call to public service, it is a must-read for young people thinking about a career in Washington."
—Dr. Jeffrey Bergner, former Assistant Secretary of State; and former Republican Staff Director, US Senate Foreign Relations Committee
"Dispatches offers a heartful exploration of that inexplicable impulse that lures so many bright minds to the world of Washington politics and policymakers—from one who served long and well."
—Douglas A. Blackmon, Pulitzer Prize Winner (Slavery by Another Name)
"Gerry Warburg's inspirational and informative memoir is both a passionate call to participate in the making of public policy and a practical guide for doing so."
—Thomas Fingar, Stanford University (Distinguished Fellow for International Studies); and former Deputy Directory of National Intelligence for Analysis
"A first-hand expose of politicians and special interest groups, Dispatches illuminates the strategies and tactics that shaped some of the most significant legislation in recent U.S. history. This book is indispensible for anyone who wants to know how laws are really made and how our country is really governed."
—Kim Cranston, Chair, Global Security Institute
"A superbly written inside view of the modern Congress, Gerry Warburg's Dispatches makes clear the impact smart and committed policy entrepreneurs can have, from legislators to corporate lobbyists to NGO activists. At a time when commentators lament the decline of Congress here are powerful insights in the shaping of crucial national policies."
—Adele Smith Simmons, MacArthur Foundation Former President
"A compelling narrative chronicling victories and defeats on the front lines of U.S. politics, Dispatches is written with the adrenalin of campaign cries. Warburg vividly reports details of encounters and conversations that shaped the nation's history at the turn of the 21st Century. His lively style of writing—eloquent yet colloquial, literary and journalistic—is highly engaging. His candor is palpable. This book should be required reading for citizens wishing to be informed about the realities of U.S. politics and policy."
—Florence Ladd, Author of Sarah's Psalm, Best Fiction Award Winner, Black Caucus of the American Library Association
"This wide-eyed, brutally honest account of politics and governing is a great read—exactly the kind of preparation current and future policy-makers need. It should be required reading for students longing to change Washington."
—Professor Larry Sabato, Director, Center for Politics, University of Virginia