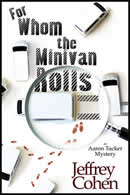 So he's baffled when the richest guy in his New Jersey town insists that Aaron, and Aaron alone, investigate the disappearance of his wife, who has inexplicably vanished from their home in the middle of the night. A freelance writer, former investigative reporter, stay-at-home dad, aspiring screenwriter, and expert on consumer electronics, Aaron reluctantly says yes, and continuously wishes he hadn't.
The more he uncovers, the more complicated — and bizarre — the story becomes. An unknown miscreant scrawls a disturbing epithet about Aaron¹s young son on the sidewalk outside their home — in barbecue sauce. Anonymous death threats are phoned in to him. A mysterious minivan seems to be lurking everywhere he travels. He becomes entangled in the town's mayoral election. And then the missing person investigation becomes a case of murder.
A traditional detective Aaron Tucker is not. He's 5'4," and weighs less than Robert B. Parker's leather jacket. And he doesn't have any investigative training. But he's funny, down-to-earth, lovable, and resourceful. And he has good and loyal friends, like the huge rental car mechanic who helps him out of tight situations, and Abigail Stein, his sexy wife, who happens to be a successful criminal lawyer and whose advice comes in handy a time or two.