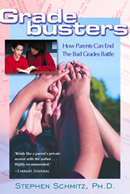 Throughout his long and varied career as an educator, Steve Schmitz has been told one story, and asked one question, more than any other: "I know my child is in grade trouble at school, Dr. Schmitz, and it's making my life hellish at home. I've tried everything, and nothing works. What do I do now?"
From three decades as a counselor, Schmitz knows that most parents deeply want to help their children at school. But he knows all too well how powerless most parents feel in turning their lackluster learners around.
And he knows, from long experience, how often, and how bitterly, parents clash with their children during "you've got to do better" periods.
To keep household conflict from escalating, and to show concerned parents how to be part of the solution, Schmitz put down in book form all the successful advice he's been dispensing for thirty years. In Gradebusters: How Parents Can End the Bad Grades Battle, he shares his practical methods with parents disturbed about their kids' low levels of academic achievement.
Schmitz knows from hundreds of real-life cases that his methods work. "There is a way out of the bad grades mess," he says, "if you're really fed up with excuses, blaming, moping, guilt, and anxiety. And, once you finally admit to yourself that you're sick and tired of rotten grades and ready for a change, substantial progress may be easier than you think. If you're also willing to take certain steps, you can take charge of your child's education, and save your own sanity in the process."
Schmitz offers parents a structure and a formula that allow them to take charge without bullying. He offers parents practical solutions for their children's academic success, even in less than wonderful schools. Step-by-step, he guides parents through the process of forging productive alliances with teachers, recapturing lost opportunities for academic growth, and motivating their children to learn. It is a highly readable prescription for ensuring school success.
Among other things, Gradebusters:
Shows how parents inadvertently perpetuate their kids' bad grades cycle, and provides a step-by-step guide to breaking it
Demonstrates why many underachieving children don't know why they're getting bad grades
Explains how parents should go about discussing grades with their children
Debunks the myth that grades are purely a reflection of a child's intelligence
Makes clear that certain skills, like organization, may be the most important, and walks parents through the process of helping their children develop the academic skills that will prove useful for a lifetime after school
Discusses rules and consequences, and how parents can successfully handle this area in the context of improving grades.Each child, Schmitz believes, has the potential for academic achievement. Parents, he emphasizes, are the key to unlocking their children's school achievement. Because it patiently, and in plain language, explains how and where to begin, continue, and finish, Gradebusters fundamentally empowers parents.
So, if you're a frustrated parent whose children are working below their potential at school, read and apply Gradebusters. It will forever change your attitudes about parenting, your beliefs about your role in schooling, and your children's future.