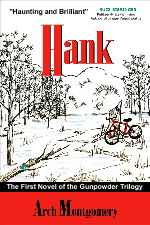 It is a page-turner. It is a true coming-of-age book.
Meet Hank Collins, an astute, gutsy, and funny 13-year-old who's just finished the seventh grade at a public school in Baltimore's affluent suburbs. But all is not trouble-free for Hank. He must contend with a troubled family, an alien school, and a world otherwise booby-trapped with alluring but perilous possibilities.
Hank is the page-turning, contemporary, coming-of-age story he tells of growing up amidst this wreckage during a dangerous and suspenseful summer. From him, we hear the events of his life. We stand by him on the baseball field and at the dinner tables of his remarried parents. We walk with him into an epic, appalling, yet believable teenage party. We share with him an astounding encounter with adult weekend warriors. We see not just his confusions and dismays, but his grit, his honesty, and his vulnerability. We like him, and root for him, and care about him.
Through a raw, real, and rewarding storyline, recounted with an understated elegance, and dialogue that is witty and captivating, we watch as he manages to evolve into a courageous, undaunted human being.
As the Harvard Crimson observes, Hank is so authentic that one sometimes feels the need to check for that standard disclaimer reminding us that these characters are only fictitious. Hank bursts from the pages, vibrant and flawed. We feel his pain, share his sorrows, and rejoice in his triumphs.
There is no holding back here, notes Pulitzer-Prize-winning writer Buzz Bissinger. There is no political correctness. The world that Hank sees and tells us about — a world fraught with pitfalls, potholes, protagonists, antagonists, decency, and deceit — is the world of the American pre-adolescent.
Author Arch Montgomery never shies away from important issues, adds the Harvard Crimson, and never takes the easy way out in dealing with them. With a few deft strokes, he manages to compress every in-between shade of gray into the dialogue and actions of his characters. Like the state of the world it reflects, good and evil are not always so clear-cut. Part of Hank's journey of growth entails understanding and dealing with that realization.
No wonder the Harvard Crimson concludes: Few novels have succeeded in capturing the essence of adolescence, but the likes of Tom Sawyer and Holden Caulfield are about to welcome the newest member to their ranks a 13-year-old boy named Hank… Arch Montgomery, impressive in an incandescent debut, shows a mastery of his craft and an unusually perceptive insight into the human heart.