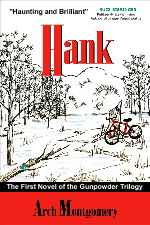 Arch Montgomery's Hank is an absolute dazzler. I was blown away by it, and I cannot remember the last time a book has so deeply affected me. It is a page-turner. It is a true coming-of-age book. It is a rare gift of storytelling and voice. In the character of Hank, Montgomery has created a timeless portrait, a young man of conflict and confusion and inner demons trying to sort out a world that refuses to lend itself to easy sifting. There is no holding back here. There is no political correctness. The world that Hank sees, a world fraught with pitfalls and potholes and protagonists and antagonists and decency and deceit, is the world of the American pre-adolescent. Montgomery's ability to get inside that world is nothing less than astounding. This is a book I want my 18-year-old son to read. It is a book I want my 11-year-old to read. It is a book I want other parents to read, because it is that haunting and brilliant.
–BUZZ BISSINGER, Best Selling, Pulitzer-Prize-Winning Author of FRIDAY NIGHT LIGHTS
I have just finished reading Hank and I am extraordinarily moved by it. Hank himself is a remarkable creation a delightful, gutsy, astute, funny, wise young fellow going into the 8th grade. He talks to us, never with even a touch of literary cuteness. That the author, an experienced independent school teacher, coach, and school head, creates and sustains the powerfully compelling voice for this novel is a major achievement.
Very quickly we stop thinking of the writer's virtuosity and listen to Hank. We hear the events of his current life, stand by him on the baseball field and at the dinner tables of his remarried parents, walk with him into an epic, appalling, yet believable party, and share with him an astounding encounter with adult weekend warriors. We see his fineness, not just his confusions and dismays. We like Hank, and root for him. Somehow he manages to be such a courageous, evolving, undaunted human being.
Hank is a book that adults will find compelling, moving, and riveting. Teachers, counselors, and coaches should read it (they will have no problem finding it fascinating). I'd like to have it, too, in the hands of every parent of a middle school or high school kid. But I stress that all thoughtful adults, whether they are parents of school-age children, or whether they work with the young in any capacity, will find richness in this brilliant and superb debut novel.
— DAVID MALLERY, Director of Professional Development, National Association of Independant Schools and Director of DAVID MALLERY SEMINARS
Hank is nothing less than a 'character education' curriculum in a book. It will prove invaluable as a tool for meaningful discussions about some of the key issues of adolescence — identity, decision-making, sex, belonging, drugs, and dealing with parents. In addition, it should be on the required reading list of middle schools throughout the country. Put simply, author Arch Montgomery knows kids.
— KEVIN O'CONNOR, Middle School Counselor
Few novels have succeeded in capturing the essence of adolescence, but the likes of Tom Sawyer and Holden Caulfield are about to welcome the newest member to their ranks; a 13-year-old boy named Hank[Author Arch] Montgomery is no ordinary writer, and Hank is no
ordinary book. From start to finish, Montgomery skillfully fashions a narrative that is raw, real, and wholly rewarding. Throughout the novel, he displays a deep and true understanding of modern youngsters and what makes them tick. Most impressive is Montgomery's convincing use of the first-person; the entire narrative is related through the eyes of Hank. Before the first page is turned, one forgets that a 40-year-old gentleman has authored these words, so genuinely like a boy's thoughts do they sound. Hank is so authentic that one sometimes feels the need to check for that standard disclaimer reminding us that these characters are only fictitious. Hank bursts from the pages, vibrant and flawed. We feel his pain, share his sorrows, and rejoice in his triumphs.
The novel moves along at a breezy pace. There is a healthy balance between plot and introspection; the numerous dialogues and conversations are witty and captivating, making for a fun and interesting read. Montgomery never shies away from important issues and never takes the easy way out in dealing with them. With a few deft strokes, he manages to compress every in-between shade of gray into the dialogue and actions of his characters. Like the state of the world it reflects, good and evil are not always so clear-cut. Part of Hank's journey of growth entails understanding and dealing with that realization.
There is an understated elegance to the writing that enriches the flow of the story. It is never overtly flashy, never sacrificing function for form. When describing a girl with a penchant for eccentric dress, for example, Hank comments that she claims she's Goth, but she just reminds me of a car wreck that you go by on the Interstate. No matter what you see, it's impossible to turn your eyes away. Little moments and anecdotes interspersed throughout contribute realism to the overarching theme.
Arch Montgomery impresses in his incandescent debut. He shows a mastery of his craft and an unusually perceptive insight into the human heart. Hank has the potential to be a classroom staple in schools all across America. Powerful, moving, and always interesting, it should be required reading for teachers, parents, and anyone who has ever wondered exactly what goes on inside the heads of adolescents.
–HARVARD CRIMSON, MARCUS L. WANG, HANK MAKES A STUNNING DEBUT
I just finished Arch Montgomery's Hank and I must say, as a parent and as a reader, that it was very, very good. The characters had depth, the scenes play out in my mind days after I finished reading, and it was, in addition, an enjoyable read. I would not hesitate to have my 14-year-old daughter read it it deals with all the growing-up issues she'll soon confront.
— DR. ELLEN TAYLOR, Baltimore MD, Parent of four
"With Hank, Arch Montgomery has given us a Penrod for these times, a very real boy dealing with very real issues in that teen-age world that never seems quite real. Montgomery knows that young voice so well and lets us hear it unfiltered."
— FRANK DEFORD, AUTHOR, AN AMERICAN SUMMER
Hank is a real book about adolescents, written by a person who has obviously spent his life listening to and caring about kids. The characters struggle with all the problems each rising generation must face how to be a person of integrity, how to fall in love, how to believe and yet they do so in a way that reads true to the youth at the turn of centuries.
— VANCE WILSON, Headmaster, St. Albans School in Wasington D.C.
Hank is headed for trouble, and as he moves about the wreckage of a troubled family, an alien school, and a world otherwise booby-trapped with alluring but dangerous possibilities, he reveals the grit, honesty, and vulnerability to make us care about him. Arch Montgomery knows this
turf, and his Hank is at once surprising and very familiar. This is contemporary boyhood as it really is, unvarnished, compelling, and just right.
— RICHARD HAWLEY, Headmaster, University School, Author of thirteen published books, mostly fiction and most of them about schools and children including a new edition of the HEADMASTER's PAPERS, with an introduction by John Irving
The poignant story of a troubled 13-year-old's dangerous and suspenseful summer, Hank is a devastating indictment of the parental neglect, misguided permissiveness, and adult transgressions that help derail so many of today's rudderless young. As the first installment of a trilogy, it leaves you worried about Hank's fate and anxious to hear more from a compelling new voice in young adult fiction.
— LESLIE BENNETTS, FORMER NEW YORK TIMES REPORTER WHO WRITES FREQUENTLY ON PARENTING AND CHILD DEVELOPMENT ISSUES FOR SUCH NATIONAL MAGAZINES AS PARENTS MAGAZINE, PARENTING, CHILD MAGAZINE, AND LADIES HOME JOURNAL
Hank is a poignant story about growing up in contemporary American culture. The dilemmas Hank faces over the course of one eventful summer vacation will ring true to young readers and be eye-opening to their parents. More important, the tale is invested with a compassionate and moral clarity sadly lacking in so much of what children read and see these days. How rare it is to find a book that is well-written and engaging both to young and older readers, and that conveys powerful messages about making good choices in a complex world. Our world will be a better place when all youngsters and all their parents read and contemplate the important messages in Hank.
— RON GOLDBLATT, Executive Director, Association of Independant Maryland Schools
Convincing, realistic, and exciting, this coming-of-age tale keeps the reader involved with Hank and his various families from first page to last. Credit Mr. Montgomery with creating characters of depth — neither all good nor all bad who are both believable and sympathetic. The problems Hank experiences in the summer after seventh-grade are made more immediate by the first-person narrative. The issues he deals with are timely and compelling. The first in a trilogy, Hank will surely resonate with young adults.
— SUSANNE KASS, Editor, ANTIETAM REVIEW LITERARY MAGAZINE, and teacher at Brook Lane School in Hagerstown
Excellent storytelling brings Hank to life as his summer takes him into situations tough enough to give an adult major heartburn. Some of these situations involve paintball, the main reason we review the book Hank is a book worth reading for entertainment and many kinds of insight.
— ACTION PURSUIT GAMES MAGAZINE
I loved Hank. Author Arch Montgomery really got into the mind and heart of his young teenager protagonist. Reminding me of that truism, 'The only person who can do what he wants is the person for whom nobody cares,' Hank falls between the cracks of his two households, then consciously takes advantage of his ability to be so much on his own. Unable, ahead of time, to realize the negative consequences of so much freedom, he finds much to complain about, and I as the reader/observer couldn't help but feel and pull for the kid as he struggles from his predicaments everyday and extraordinary. It's my deep hope that Hank takes the place of Catcher in the Rye, whose widespread use in the classroom I could never understand, and still can't. Hank deals head-on, and so much better, with many, many critical aspects of growing up today, and with a main character about whom everyone must and will care. The reading and discussion of Hank, in classrooms and out, can only be good for kids, teachers, parents, and society as a whole.
— GINNY LEVIN, Retired School Teacher, Maryland