Who exactly is Hillary Clinton?
Because as her candidacy for President has been announced ahead of 2016, and she could well become the first woman ever to be U.S. President, the question becomes all the more relevant … and important.
Fortunately, woman's biographer Alma H. Bond, a Manhattan psychoanalyst for 35 years, has read just about everything ever published about the former First Lady, U.S. Senator, and Secretary of State, and has written a fascinating, highly readable, and intimate book burning through a great many myths about HRC.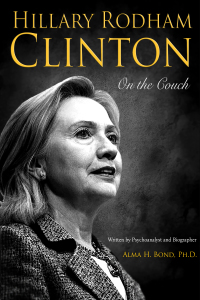 PRAISE FOR HILLARY RODHAM CLINTON ON THE COUCH
"Every American should read this book, as should every world leader. In fact, so should the people in every country around the world, because it seems evident to me that she will be America's next president."
?DR. ABE BORTZ, HISTORIAN
"With her most recent tome, Hillary Rodham Clinton On The Couch, Dr. Alma H. Bond has once again used her skills as a psychoanalyst, combined them with extensive research, and put together a fascinating look at the life of her subject, this time the former first lady, Hillary Rodham Clinton . . . She has skillfully assembled a vivid chronicle of a strong woman who has faced immense challenges throughout her life and was able to pull through no matter how painful the journey. Bond's take on the details of this captivating woman are compelling and convincing, even if you, like many, don't like Hillary and, as many will do, question her accomplishments if she decides to run for President."
?NORM GOLDMAN, PUBLISHER, BOOKPLEASURES.COM
"In the fourth installment of her 'On the Couch' series, famed female biographer Dr. Alma Bond looks inside the head and life of the presidential frontrunner and informs voters what she's found. This is the most original concept I've come across! And what an extraordinary read! I felt like a fly on the wall in Dr. Darcy Dale's office, as the author has a gift for depicting a situation as if it is actually occurring. Every chapter was an open doorway to a room full of intimate details about the former First Lady, which made the sessions more realistic. From birth to Benghazi, and beyond, this novel explores Clinton in a most enjoyable, and sometimes heartbreaking, manner. I'm not a colossal fan of politics, but Hillary Rodham Clinton has always intrigued me. I've read several articles in the past, but her story has more depth than I originally considered. The bibliography is quite extensive; therefore, this was getting several points of reference at once. When you consider what this woman has been through and how she persevered, it's hard not to admire her. Alma H. Bond, Ph.D. has delivered a powerful interpretation of an enigmatic figure! An extraordinary book and a great read. I think it's brilliant!"
?LITERARY MELTING POT
"Hillary Clinton comes for psychiatric help in dealing with her husband's latest affair. Dr. Darcy Dale encourages her to open up and to reveal her past —the good and the bad. Much information about the First Lady is revealed during these fictionalized sessions. RESULT: An in-depth and detailed look at the life of Hillary in a way that's more interesting than a typical biography/autobiography because the author is really able to make Hillary come to life and seem human. She's more than the nickname she was given during her early years ?"Sister Frigidaire." She has many emotions and even cries, not only during sessions, but states she cried during other difficult points in her life. She's funny, a bit sarcastic, and very intelligent. Bond provides interesting insights into what Hillary could have been thinking about this or that, and the state of her mind from a psychoanalyst's point of view. It's easy to get to know Hillary and want to hear her story."
?BOOK READERS
"There have been so many books written about our former First Lady of Arkansas, First Lady of our country, Senator, and Secretary of State Hillary Clinton. Not all put her in a good light, I might add. If you look at the picture on the cover of this book, you will see an older lady. The lines on her face are there because she has given almost her whole life to helping others. Look into her eyes and you will find the love she has for our country and her family. The author shows us what has made her the woman she is today, starting from her early years growing up with her parents. Her father ruled with an iron hand. He made no concessions when it came to his children. Hillary was the only girl but was treated like her brothers in many ways. When it came to school work, a B was not accepted in the Rodham home. It had to be all A's. I lived in Arkansas for a few years and read what reporters said about her. She was ripped apart on many things?everything from the way she dressed, to why she put up with Bill Clinton and his women. Hillary is a strong woman, but she is human just like the rest of us. She feels pain; she cries when no one is around. People seem to forget her many accomplishments. This book has opened my eyes so that I can see who, and why, Hillary is the person she is, and how she has managed to overcome so many obstacles that have come her way. In my own opinion, some men are intimidated by her. Hillary has never been one to pull any punches that are thrown at her. Who has the most experience to become our next President? Who has the tenacity to fight in a man's world when it comes to the women of America? Who is the person who will admit when she is wrong? If she runs, count on this Republican to vote for her."
?MIDWEST BOOK REVIEW
"Who exactly is Mrs. Hillary Rodham Clinton? The chances that she will become the first woman running for the presidency make this question all the more relevant. To portray this woman's character, author Alma H. Bond Ph.D. has created a series of sessions that Mrs. Clinton had with a Dr. Darcy Dale, a fictitious psychoanalyst. The result is simple, fluent, and interesting."
? IZAK COHEN, OWNER, UNLIMITED JEANS COMPANY, NEW YORK, NY
"This is quite an entertaining book. It relates the life of Hillary Clinton through imagined therapy sessions. You obviously need to suspend belief slightly for the book to work, but if you do, it's quite enjoyable. The story is told almost entirely through Hillary's monologues to her therapist, in big paragraphs interspersed with small insights from the analyst. The combination is a somewhat lighthearted but interesting view of Hillary the person."
?ELLIE WRIGHT, ON SHADOW.COM
"I just finished reading/reviewing Alma Bond's book on Hillary and, as always, she's to be congratulated on doing a fantastic job. It was so thoroughly believable that, at times, I had to pinch myself to remember that it was a book of fiction as well as non-fiction. I found myself hating Hillary's cruel father and wondered how much of that depiction was true. At times, I also found Hillary, whom I admire tremendously, to be pompous, although, given what she's accomplished, she deserves to be full of herself. On the other hand, she's portrayed as having gotten through her unhappy childhood successfully, due to her beloved mother's full support and encouragement. It is a GREAT book, and I encourage all journalists to read it as soon as it's out, especially if they tend toward voting Republican."
?ARLINE ZAKS, AUTHOR OF NUMEROUS BOOKS, INCLUDING HORSING AROUND IN NEW JERSEY, AND A LONGTIME MEMBER OF THE AMERICAN SOCIETY OF JOURNALISTS AND AUTHORS
"What an amazing book! Dr. Bond really gets into the mind of her subjects, and this one on Hillary Rodham Clinton is no exception. The reader can easily imagine Clinton sitting in a comfortable chair across from the imaginary Dr. Dale, spilling her heart and her secrets, a cup of tea beside her, and her smartphone carefully switched off for 50 minutes at a time. But that doesn't mean there's no meat here. Bond's portrayal of Clinton delves into her background, her relationship with Bill (with all of its ups and downs), her years as a lawyer and as the family breadwinner, and how she feels about motherhood—and grandmotherhood. Bond's earlier books dealt with women who have already entered into history; Clinton is her first one dealing with a living person. As such, it's easy to see that Dr. Dale is a Hillary Clinton fan for the most part. Political junkies, have no fear, though: Despite Bond's meticulous research, the book is unlikely to change anyone's mind regarding Clinton. If you already support the former first lady, senator, and secretary of state, you'll come away feeling good about that decision. If you don't, you'll probably find ammunition to support your view as well, which probably just goes to show that Bond's background in psychology gives her an even keel from which to steer her psychoanalytical boat. In any event, it's a fascinating read about a young, socially inept girl who grew into an accomplished, driven woman. Even if you thought you knew Hillary, this will probably still be an eye-opener."
?ANN BEARDSLEY, AUTHOR, HISTORICAL DICTIONARY OF NASA AND THE SPACE PROGRAM (FORTHCOMING)
TITLE INFORMATION
ISBNs: 978-1-61088-164-7 hardcover
978-1-61088-167-8 epub
978-1-61088-166-1 Kindle
TITLE: Hillary Rodham Clinton On the Couch
AUTHOR'S LAST NAME: Bond
AUTHOR'S FIRST NAME: Dr. Alma H.
EXACT NAME OF PUBLISHER: Bancroft Press
PUBLISHER PHONE NUMBER: 410-358-0658
PUBLISHER WEBSITE: www.bancroftpress.com
PUBLISHER E-MAIL ADDRESS: bruceb@bancroftpress.com
PUBLICATION DATE: June 30, 2015
PRICES: $25.00 (hardcover), $9.99 (ebooks)
NUMBER OF PAGES: 285
SUBJECTS/TOPICS OF BOOK: Biography/Politics/Public Affairs/Historical Fiction