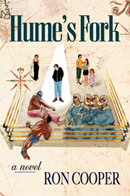 "Hume's Fork is not only a very impressive debut, but one of the funniest novels I've read in a long time. Like John Kennedy Toole and Kingsley Amis, author Ron Cooper displays a gifted attentiveness to the foibles of the academic world."—RON RASH, CHAIR, ENGLISH DEPARTMENT, WESTERN CAROLINA UNIVERSITY, AND WINNER OF THE APPALACHIAN WRITERS ASSOCIATION BOOK OF THE YEAR AWARD FOR HIS DEBUT NOVEL, ONE FOOT IN EDEN
"I approached Hume's Fork as I approach most academic novels—tentatively, ready for disappointment, or worse. I was delighted, accordingly, to find that Ron Cooper's imaginative recounting of life as a philosopher was so funny, touching, and not only well-informed but actually intelligent about its subject—a rare feat even for serious biographers of philosophical lives. The book reminded me of David Lodge's marvelous novel Small World, with a philosophical twist. I recommend it to those philosophers who have managed to maintain some sense of humor about the increasing absurdity and irrelevance of their 'profession,' and to everyone else who has seriously wondered what, if anything, philosophy still has to say about life."—ROBERT C. SOLOMON IS DISTINGUISHED TEACHING PROFESSOR AT THE UNIVERSITY PF TEXAS AT AUSTIN. HE IS WELL-KNOWN FOR HIS COURSES ON "EXISTENTIALISM" FOR THE TEACHING COMPANY, AND HE IS THE AUTHOR OR EDITOR OF MORE THAN 50 BOOKS, INCLUDING THE PASSIONS, ABOUT LOVE, A SHORT HISTORY OF PHILOSOPHY, THE JOY OF PHILOSOPHY, SPIRITUALITY FOR THE SKEPTIC, AND TRUE TO OUR FEELINGS
"It doesn't seem possible for a first-time novelist to write a book that is tender, funny, intelligent, and satirical, but Ron Cooper has done exactly that. Hume's Fork is unlike any book I've ever read: satisfying as a philosophy text, compelling as a drama, and redemptive in its trashing of academic stuffed shirts. He writes about the South as a only a native son can, with the right combination of pathos and punch. This book heralds the arrival of a much-needed breath of fresh air in American letters." —LEE IRBY, AUTHOR OF 7,000 CLAMS AND THE UP AND UP
"Part satire, part parody, and part tender story, Hume's Fork just plain makes sense, and might even bring about the sort of slight awakening it chronicles. If you are a professional philosopher, it may make you cry. If you are anyone else, it will make you laugh—and think—and then laugh some more."—JOHN J. STUHR, W. ALTON JONES PROFESSOR OF PHILOSOPHY AND PROFESSOR OF AMERICAN STUDIES, VANDERBILT UNIVERSITY
"Reading Hume's Fork is like having a conversation with John Kennedy Toole, Pat Conroy, and Noam Chomsky all at once—and what is positively brilliant about Ron Cooper's debut novel is that this works so seamlessly. Cooper's dialogue is comic satire at its finest while striking a chord at the universal themes of life—love, redemption, religion, and one heck of a wrestling match. It's perfect pitch. I'm hooked. Bring on the next novel."—AMY MANGAN, OCALA STYLE MAGAZINE
"Hume's Fork is a breath of rare air—you know, with sweet notes of paper-pulp plant chimneys, beach foam, tidal mud,and pine needles that one grows to love because they're all about getting home, where you know who and what you are . . . Scraped raw by his wife, reaching critical mass with his university employer, faithfully attended by his Sancho friend Saul, and lost in the Lowcountry, philosophy professor Legare 'Greasy' Hume (Hume Fork's 'tagonist—he's alternately pro- and ant-), talks us through his indecisions and reactions on this road trip home to South Carolina. It's Kerouac with an advanced degree, if you will, or Odysseus trapped by the Sirens at a Wrestlemania tailgating party . . . Author Ron Cooper, that old mandolin-picker, is a well-tuned storytelling instrument. He has a way of writing that's probably an awful lot like his teaching (he's a professor at a college in central Florida), and you may find that there's something more to it than just being entertained by this read. I expect that's what you get with Hume's Fork: some book-learning, and a down-home, self-deprecating, occasionally grim sense of humor that's sweet and sour—like South Carolina mustard-barbecue sauce. There are also some nice parting gifts just for playing along: stories inside the story that are themselves worth the price of admission. So relax, lean back in that La-Z-Boy, and I promise you that Hume's Fork will make you laugh, and it'll talk philosophy 'atcha, but all friendly-like, and there won't be a quiz at the end."—GARRISON SOMERS, EDITOR-IN-CHIEF, THE BLOTTER MAGAZINE
"Sideways meets Socrates, as two cohorts travel through the constrained, self-important world of philosophy conferences and realize via the age-old mind/body problem that there's far more to life and self, even when life contains embarrassing relatives, demanding wives, competitive colleagues, and anxious moments over one's own potency. Skewering the way once great ideas have been reduced to trivial debates, Cooper manages with metaphorical finesse to show us that philosophy can still teach us a thing or two, if we pay more attention to its essence than its current form."—KATHERINE RAMSLAND, PH.D., PROFESSOR OF FORENSIC PSYCHOLOGY, DESALES UNIVERSITY, AND AUTHOR OF THE CSI EFFECT AND THE HUMAN PREDATOR
"In the world of Ron Cooper's Hume's Fork, we meet the eccentric southern family of Greazy, a philosopher whose perspective reaches from Aristotle to Maybelle Carter. Navigating this irresistible narrative, we find ourselves not just entertained, but thinking deeply about subjects of the greatest importance. Hume's Fork is intelligent fun."— SUDYE CAUTHEN, AUTHOR OF THE FORTHCOMING BOOK SOUTHERN COMFORTS: ROOTED IN A FLORIDA PLACE, AND DIRECTOR OF THE NORTH FLORIDA CENTER FOR DOCUMENTARY STUDIES
"Thoroughly enjoyable." —DR. CHARLES DASSANCE, PRESIDENT, CENTRAL FLORIDA COMMUNITY COLLEGE
"Hume's Fork, a first-class farce with something for everyone, is about people just like you and me—rednecks with PhDs, wrestlers, rednecks without PhDs, a church with "corn-fed members," and one lapsed Hasid who accidentally solves philosophy's most profound riddle—the mind/body problem. May Hume's Fork find its many readers! It made me laugh out loud."—ENID SHOMER'S LATEST COLLECTION OF SHORT STORIES, TOURIST SEASON, WILL BE PUBLISHED BY RANDOM HOUSE IN 2007
"A finely wrought novel in which two of the central characters happen to make their living as academic philosophers (thus, one in which characters reveal but also hide themselves, especially from themselves, by means of the ideas they entertain and defend). Exhibiting the human folly of professional philosophers is, for author Ron Cooper, secondary to exploring the human struggle of the central character, an individual who knows, all too acutely and painfully, that he does not know adequately what he is saying or doing. That is, Socratic wisdom is here not as a culminating insight but as a starting point, which, in this instance, is a place to which one can never go back—home. How is this possible? What would it mean to return home or simply to attempt to? How would one know that one had arrived—or failed to arrive—there? What is going on in the minds of others who are encountered on such a trip? Do they even have minds in the same sense in which one has one's own thoughts, confusions, experiences, and longings? Is this a merely human sojourn, or are we accompanied by a divine presence whose existence, while secured simply by a proper understanding of what his name means (that than which nothing greater can be conceived), is habitually denied by intellectuals? Should not doubts about that disputable being—the human self—cut even deeper than those about the ontological argument? These and other questions are, in the hands of this storyteller, not so much matters of rumination as the stuff of the story itself—they are posed and addressed mainly by the actions of vividly drawn characters caught up in inherently dramatic situations. A wonderful read for anyone!"—VINCENT COLAPIETRO, PROFESSOR OF PHILOSOPHY, PENNSYLVANIA STATE UNIVERSITY, AND AUTHOR OF PEIRCE´S APPROACH TO THE SELF (SUNY, 1989). HE REGULARLY TEACHES BOTH AESTHETICS AND PHILOSOPHY OF LITERATURE.
"Ron Cooper has written something completely new—a philosophical romp. He knows both his low country and his philosophy, and if you like good, mostly clean fun, this is the book for you."—LOLA HASKINS, AUTHOR OF DESIRE LINES, NEW AND SELECTED POEMS , AND NOT FEATHERS YET: A BEGINNER'S GUIDE TO THE POETIC LIFE
"Can one combine philosophy and humor? I once tried to inject a humorous touch into a discussion about self-reference by imagining Dirty Harry referring in a movie to Clint Eastwood, the real life actor. Alas, when a friend tried to explain the joke to Clint, he was not amused. Ron Cooper's humor fares much better than mine."—JAAKKO HINTIKKA (ORIGINALLY FROM FINLAND) IS ONE OF THE FOREMOST PHILOSOPHERS IN AMERICA, INDEED THE WORLD, AND HAS RECEIVED PERHAPS PHILOSOPHY'S HIGHEST HONOR, TO BE THE SUBJECT OF A VOLUME OF THE LIBRARY OF LIVING PHILOSOPHERS (2006). HE'S PROFESSOR OF PHILOSOPHY AT BOSTON UNIVERSITY.
"Hume's Fork, Ron Cooper's first novel, takes a second-rate philosophy professor who teaches at a third-rate college to a fourth-rate academic conference. From there, Hume is off to any number of entanglements that somehow reach into the world of professional wrestling. The book is so much fun that even we academics have to forgive, maybe even congratulate, Copper, who has added to a genre that includes Lucky Jim and Straight Man."—BILL KOON, EDITOR OF A COLLECTION OF CLASSIC SOUTHERN HUMOR, PROFESSOR OF ENGLISH, CLEMSON UNIVERSITY, AND AUTHOR OF HANK WILLIAMS: SO LONESOME
"Only Ron Cooper could have written Hume's Fork. How can I make this claim with such consummate confidence? Because of the high improbability that anyone at all could have cooked up this mix of zaniness and erudition, satire and insight. Hume's Fork is as delicious as it is original."—REBECCA GOLDSTEIN, PHILOSOPHER, NOVELIST, AND MACARTHUR FELLOW