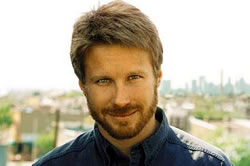 J. Scott Fuqua is also known as Jonathon Scott Fuqua. However, because most people call him Scott, he has made an effort to drop the Jonathon. (Strange, huh?)
Scott is the author of four multi award-winning young adult novels (The Reappearance of Sam Webber, Darby, The Willoughby Spit Wonder, and King of the Pygmies).
He has also written two highly acclaimed literary novels (In the Wake of the Boatman, and Gone and Back Again) and the award-winning graphic novel In the Shadow of Edgar Allan Poe.
September 2014 brings his latest original creation, The Secrets of the Greaser Hotel. This book has already received positive reviews from other writers and colleagues, such as Caldecott Medal winner Paul O. Zelisnsky and award winning screenwriter/producer David L. Paterson. The story deals with the dark magic of pure greed, the lesser magic of self-determination, and the indestructible connections of chosen family. Along the way, it examines the amorality of pure capitalism and the sad, hopeful life of Allie Argos and her surrogate father, the talking cat Jerome, as well as her best and only friends, Midge Darlington, Arnold Armstrong, and Rena Duchamp.
The Secrets of the Greaser Hotel is a highly anticipated gothic adventure with the unusual twist of incorporating 115 illustrations throughout the story.
Winter 2014 will see the publication of the multimedia project Medusa's Daughter, which is coming out as a novel, graphic novel, and graphic novella, as well as in all ebook formats.
He's penned and illustrated two books on the history of architecture and a children's book on the history of the Baltimore & Ohio Railroad.
For elementary students, he wrote the graphic chapter book Catie and Josephine and illustrated The Synagogue Speaks.
His most recent children's book, Calvert the Raven in the Battle of Baltimore, was the Library of Congress' National Book Festival Selection for Maryland as well as Maryland's Center for the Book's 2013 Selection for kids. Calvert the Raven has been written into the Maryland State elementary school social studies curriculum, and Fuqua served as a primary speaker at the Middle States Council for Social Studies in February 2014.
Currently, he is writing and illustrating new books for kids.
Scott also writes living historic plays for the Jewish Museum of Maryland and the Maryland Historical Society, two of which were honored at the National Theater in Washington DC in Spring 2013.
He has won three Maryland State Arts Council writing awards and teaches writing and illustration as the Maryland Institute College of Art (MICA).
Born in Virginia, where he grew up and went to college (College of William & Mary), he moved to Baltimore, MD as an adult, and has been here ever since, living with his wife and two children.
Fuqua Visiting Author Package for Schools, Libraries, and Events