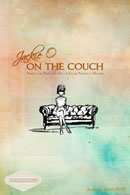 Op-Ed Piece by Dr. Alma Bond In advance of the release of Caroline Kennedy and Michael Beschloss's new book, Jacqueline Kennedy: Historic Conversations on Life with John F. Kennedy
Jackie O: On the Couch is the story of Jackie Kennedy Onassis as she might have written it.
This is not just another biography. For the first time, Jackie O: On the Couch highlights Jackie's life from her own perspective, as imagined by author Dr. Alma Bond, a psychoanalyst and long-time student of Jackie lore.
The facts are all historically correct, as are the ideas, the Washington intrigue and politics, and the examination of the role of women in society and in the White House. Jackie speaks of her need to record her story truthfully—to replace the hodgepodge of lies published during her lifetime. Speaking as an older woman, she ponders how her points of view have changed from those she held when she was young.
The book delves into her childhood and explores how and why Jackie became the person she was. It also explores the Kennedys, and how John F. Kennedy's background affected his marriage. Jackie's deep love for Jack, his early inattentiveness, their difficulties together, his outrageous womanizing, happy times at the White House, and the tragedy of his assassination—all are viewed through Jackie's eyes.
Jackie writes of her need for Aristotle Onassis, debunking the notion that she married him purely for his money, and traces the joyful early years of the marriage through to its dramatic collapse and Ari's difficult death.
A different Jackie emerges into the world of publishing. Her new persona allows her to establish her very best relationship with the stout and adoring Maurice Tempelsman, until non-Hodgkins lymphoma takes her life in 1994, at age 64.
Jackie O: On the Couch is a unique exploration of the life and loves of a great historical figure. Jackie Kennedy Onassis deeply prized her privacy and, as a result, she was both revered andmysterious. In this book, much of the mystery is shed as Jackie finally emerges as a fully fleshed-out, three-dimensional person—a true human being, with enormous strengths and shortcomings, who all of us can now understand and appreciate, perhaps for the first time.