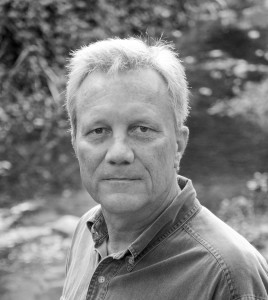 John C. Hampsey is professor of Romantic and Classical Literature at Cal Poly, San Luis Obispo, where he has won the University Distinguished Teaching Award. Previously, he taught at Boston University and MIT. He received his BA from Holy Cross College and his PhD from Boston College.
His book, Paranoia and Contentment: A Personal Essay on Western Thought (2005, University of Virginia Press) won enthusiastic endorsements from fellow writers Lawrence Ferlinghetti and Tim O'Brien. O'Brien judged Paranoia and Contentment to be "sharply reasoned and intellectually bold . . . This beautifully written book turns upside down our standard thinking about creativity, imagination, and what it is to be wholly human." Paranoia and Contentment was the first book to view paranoia in a positive light, and to use the concept to re-examine Western thought.
Professor Hampsey's memoir Kaufman's Hill (Bancroft Press, hardcover, January 2015) is set in Pittsburgh between 1961-68. It begins when the narrator is seven years old and focuses on that threshold time between the late 1950s and the full counter-cultural world that arrived after 1968, as well as on the graphic yet mythical world of boyhood that vanishes right into the twilight. Each chapter, in fact, has a key scene occurring at twilight.
Howard Zinn, after reading an early draft of Kaufman's Hill, called it "the best book on American boyhood in decades." Of Kaufman's Hill, another reader says it"touches on something about boyhood within the expansiveness of life that I can't remember anyone doing, especially not with your voice and perspective." Another early reader asserts that "the book captures the dynamics of the lost world of boyhood with sensitivity but without sentimentality, in a way no one has before." "It is an American Angela's Ashes," suggests yet another pre-publication reader.
The Gettysburg Review is publishing an excerpt from Kaufman's Hill in Autumn 2014.
Professor Hampsey is currently working on a novel—Soda Lake, an existential mystery mixed with interconnected imaginary portraits. The Alaska Quarterly has recently agreed to publish an excerpt.
During his career, Hampsey has had more than thirty stories and essays published in such places as The Gettysburg Review (four times), The Midwest Quarterly, Antioch Review, The Alaska Quarterly, The Boston Globe, Arizona Quarterly, European Romantic Review, Witness, Colby Quarterly, The Chronicle of Higher Education, and McNeese Review, among many others.
He lives in San Luis Obispo, Califorinia, with his wife and daughter.
Hampsey will begin a national tour of readings for Kaufman's Hill in January 2015. For information on that tour, or to arrange a reading, please contact Bancroft Press publisher Bruce Bortz (bruceb@bancroftpress.com) or the author directly at jhampsey@calpoly.edu.