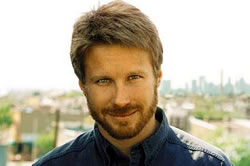 J. Scott Fuqua is the author of four award-winning young adult novels, including Alex Award-winning The Reappearance of Sam Webber for Bancroft Press. He has also written three highly acclaimed literary novels and the award-winning graphic novel In the Shadow of Edgar Allan Poe. He's working on multimedia project Medusa's Daughter, which is coming out as a novel, graphic novel, and graphic novella, and in all ebook formats.
He's penned and illustrated two books on the history of architecture and a children's book on the history of the Baltimore & Ohio Railroad. For elementary students, he wrote the graphic chapter book Catie and Josephine and, here at Bancroft, Calvert the Raven in The Battle of Baltimore, the first of what he hopes to be many installments of the Flying Through History series.
He has also written, illustrated, and created The Adventures of MT Pitt and The Synagogue Speaks. For adult readers, he wrote critically acclaimed In the Wake of the Boatman. Currently, he is writing and illustrating new books for kids; his sixth novel, The Mystery of the Greaser Hotel; and living history plays for the Maryland Historical Society and the Jewish Museum of Maryland.
He has received three Maryland State Arts Council writing awards and teaches writing and illustration at the Maryland Institute College of Art.
Fuqua Visiting Author Package for Schools, Libraries, and Events