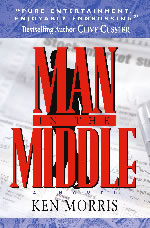 You are invited to enter the world of high stakes and low morals insider trading, where winning no matter how it's done is measured by how much money you have at day's end. Join Peter Neil as he is sucked into a situation that soon spins out of control. Come experience what happens when a young man with a good heart is tempted with unimaginable wealth; when a love affair gets tangled with long-buried family secrets; when a persistent SEC agent matches wits with ruthless businesspeople who think nothing of murder of individuals and of entire countries' economies!
Man in the Middle blurs the line between today's business headlines and fiction. Written by a man described as a 'former Master of Wall Street by the London Times, this novel takes you deep inside the inner working of today's capital markets, and simultaneously makes it understandable and gripping.
Reviewers have said, "Man in the Middle is an insider's foray into the cutthroat, rip-your-face-off culture of big-time global trading and corporate misconduct . . .. . . offering up a smorgasbord of insider trading, murder, and protection money."
Welcome to Wall Street and the international financial marketplace a world that author Ken Morris knows intimately, thrived in for 20 years, then left suddenly. Retired at 39, Ken brings together an insider's knowledge with a novelist's talent for storytelling and melds the two together with the heat of a righteous anger from one who has fought a corrupt system. He is destined to become one of our foremost thriller writers, having already been compared to the early John Grisham at his best with the investment world instead of law as the backdrop.