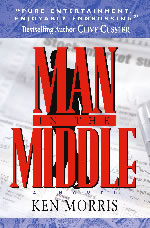 "Pure entertainment. Enjoyably engrossing. Enough intrigue to satisfy anyone. A fun read."
— CLIVE CUSSLER, Bestselling author of the NUMA Files Series and Valhalla Rising II
If the recent rollercoaster ride of the stock market hasn't jump-started your heart, it's time to read Ken Morris' Man in the Middle. This financial thriller both educates and excites, and offers a pulse-pounding return on investment. My market tip? Add this one to your literary portfolio.
— ALAN RUSSELL, Award Winning Author of EXPOSURE
"Man in the Middle is a great, great book that I couldn't put down. The novel starts with a bang (literally…I can see that in the movie!), the plot unfolds and then it really grabs you. While it was fiction I could swear it was fact. I have been telling people about it and intend to mention it in my column." — HERB GREENBERG, Monthly Columnist for FORTUNE Magazine,Daily Columnist for THESTREET.Com, and Former Financial Columnist for the San Francisco Chronicle I
"Man in the Middle grabs you like a crazed broker and hurls you into a cutthroat world of money, drugs, and murder. Sizzling, high-voltage, hair-raising suspense, plus a treasure trove of fascinating insiders knowledge, practically assure this debut novel a slot on the bestseller list, not to mention readers calls for an encore."
— FRAN BAKER, Bestselling Author of ONCE A WARRIOR
Ken Morris has created an intriguing, financially correct story wrapped around a gripping and suspenseful page turner.
— CHARLES BRANDES, Managing Director of the $50 Billion Brandes Investment Partners Equity Fund and author of "VALUE INVESTING TODAY"
It can happen — perhaps it already has. And, if hasnt happened yet, it will. That's what makes Man In The Middle so great so enjoyable — so thoroughly enthralling.
— CHARLIE JONES, Legendary Sportscaster, NY Times Business Best Selling author "WHAT MAKES WINNERS WIN" and his writing partner KIM DOREN
"Man in the Middle is gripping from start to finish, with plenty of twists and turns to keep the reader engrossed. Morris manages to balance an insider's view of the way Wall Street works with the intrigue and action of a fast-paced thriller. It was hard to put down, and has me looking forward to his next book."
— DOUG RAMSEY, Former FNN and CNBC Anchor, author of CORPORATE WARRIORS, Business Contributor to KUSI-TV (San Diego, CA), nd Senior Information Representative, Jacobs School of Engineering (UCSD)
Kenneth Morris' novel Man In The Middle is a gritty trek through the piranha-inhabited water of high finance. His protagonist, an everyday guy seduced by adrenaline and then by greed, finds the water getting a little too deep when a message left behind by his murdered mother forces him back to himself, back to reality, and back to the distinction between right and wrong. The story is compelling, the characters are interesting, and because I have little experience with high-stakes players in the global marketplace, it was a truly fascinating ride. I would recommend it to readers who want to think while barreling along on a roller coaster of a plot.
— DEBORAH SERRA, Successful Screenwriter for over ten years with scripts for CBS, NBC, Interscope, Lifetime, 20th Century Fox, Vanguard Films, Sony Entertainment and Spelling
Bravos are in order for Man in the Middle. Highly suspenseful, thoroughly enjoyable, and built around a novel, twisty, and very clever storyline without a single loose end, it was great, really great, and I was sorry it had to end. Nearing the climax, I was racing to see what would happen. As someone in the investment business, it was fun to read a thriller set in the financial world written by someone who really knows how it all works. All in all, Man in the Middle is just plain great entertainment.
— BILL FLECKENSTEIN, legendary short seller and president, Fleckenstein Capital (Seattle, WA); writer for RealMoney.com; and frequent contributor to CNBC
I truly loved Man in the Middle. I intended to read only until my bedtime (early), but stayed up past midnight until I couldn't see the words on the pages anymore. When I awoke the next morning, I picked up the book and finished it (I may have even dreamed about some of the characters). The plot was unpredictable and the hero seemed in trouble far too deep to ever get out. And because I believe there are some real bad guys out there in the investment world — and I wouldn't want to meet them — it was all the more frightening. Now I cant wait for the next book!"
— BILLY JOYNER, Retired Insurance Executive, Stock Analyst, Mutual Fund Manager, and currently consultant to Marshfield Associates.
Man in the Middle caught my interest right from the beginning. It explores, from the inside out, the financial world — a place known only by insiders. Though the jargon and market complexities were new to me, I was drawn to Peter Neil, the main character, as I tried to figure out what would happen next to this likable hero. Those developments not to mention his manner of expression — both surprised and entertained me. Man in the Middle receives loud applause from this financial neophyte.
— TRICIA HOWELL, ED.D., Director of Special Services, Benicia, CA – Unified School District
"Man in the Middle is loaded with non-stop action. The novel is reminiscent of the early John Grisham — at his best — with banking instead of law as the backdrop."
— FRED GERSON, CFO, San Diego Padres Professional Baseball
As a former convertible bond trader on Wall Street in the 1980's and early 90's, I can confirm that Man in the Middles securities trading descriptions are terrific and quite accurate. The author has done a splendid job characterizing the seductive energy that, for both good and bad, drives the markets and individual motivation. As Peter Neil hurtled toward his trouble, I couldn't put the book down. I rarely trade sleep for recreational reading, but Man in the Middle gave me no choice. Its a great read.
— JEAN-CLAUDE KYRILLOS, CFO, Geneohm Sciences, Inc.
Man in the Middle is a dynamic, fast-moving thriller with a mind-capturing plot and all-too-timely insight into how some big companies conduct their business. Once started, the novel is simply impossible to put down.
— MARJORIE B. MACCOUN, Bookseller and Antique Dealer (Benecia, CA)
This smorgasbord of Wall Street shenanigans, insider trading, murder, adultery, protection money, and many other indiscretions of high finance will keep you glued to your seat until the finish."
— NORM GOLDMAN, Reviewer, www.thebestreviews.com
"Man in the Middle was not only outstanding, but better than John Grisham and Lisa Scottoline, who I enjoy! Id put author Ken Morris up against any of the other thriller writers I regularly read and enjoy: Nelson DeMille, Robert Ludlum, Ken Follett, David Baldacci, Jack Higgins, Tom Clancy, and Suzanne Brockman to name a few. I started reading Man in the Middle and didn't stop until I was through, which is rare for me. The development of the characters was intriguing and made me feel like I knew the people in the story. This novel realistically shows the greed that is prevalent among more executives than most would believe–or more than most would have believed before Enron, Worldcom, etc. Of course, because my wife's aunt owns the La Jolla Beach and Tennis Club and Sea Lodge, and because Im thus familiar with the San Diego area, where the action takes place, reading Man in the Middle was all the more enjoyable."
— DEREK WERNER, U.S. DIPLOMAT, BEIJING, CHINA
"You will not want to be interrupted once you start reading Ken Morris Man in the Middle. Besides being a fast paced, intriguing tale, its an insider's look at the cutthroat, rip-your-face-off culture and techniques of big time global traders. If investors want to have a great read while learning what they are up against, get this book!"
— SAM MITCHELL, Managing Director, Marshfield Associates Asset Managers (VA)
Man in the Middle is fabulous. I expected to be entertained, but it was a bonus to get educated about behind-the-scenes action at trading houses. Even a novice, such as myself, could follow the money. And I couldn't wait to finish once I picked the novel up
— page after page, it pulled me in, deeper and deeper. In my estimation, it's more intelligent than, and just as gripping as, Grisham or Ludlum at their best. And as a movie, well, I can't wait for it to hit theaters. What a cast of characters!
— CAROLYN MCINERNY, Elected Member, Irvine CA District School Board
Man in the Middle is terrific!!! The plot, character development, dialogue, and description are all very good, and the novel is unquestionably a page-turner. My husband Phil reads it next, and congratulations on a very fine first book!!!!
— PAM PALISOUL, CARLSBAD, CA
I thoroughly enjoyed Man in the Middle. The story is fast-paced and exciting from start to finish — one never has a chance to get distracted. It incorporates state-of-the-art tools in describing the global financial markets and investment techniques. In today's world of off-shore tax havens, financial frauds, and congressional oversight, its plot seems to parallel events showcased on the front pages of our daily newspapers, and couldn't be more timely. Many of the story details are somewhat unique (at least to this reader). And the storys setting — San Diego County — is refreshing for those of us living here. In sum, it may be the authors first book, but it sure reads like his twentieth best-seller!
— JERRY FINNELL, Retired Senior Partner, KPMG Certified Public Accountants, Ex-Chairman Illinois State Board of Accountancy & active member of various Del Mar CA Civic Organizations
One of your advance readers loaned me his pre-publication copy of Man in the Middle and I thoroughly enjoyed reading it. The lead, Peter Neil, reminds me of a John Grisham character taking a tour through the luxury life of San Diego. The novel would make a terrific movie and I cant wait for the sequel.
— TOM NORA, University Student, Los Angeles CA
I loved Man in the Middle. The story was gripping and the pace was perfect. I've read a lot of thrillers, from Ludlum to Grisham, and Middle had the most intricate ending I've seen. Melding a complex array of financial and economic variables into a heated trading situation, then tying everything together at the conclusion, was terrific and rare.
— ANDY KNEETER, Former Equity Research Analyst, GEICO Insurance and currently Equity Research Consultant
Man in the Middle grabbed my interest from the start, and became more and more gripping as I got into it — so much so that, though Im not much for thrillers, I looked forward to reading it on my bus rides to and from work. Great entertainment! And hurry up with the next book!
— BRIAN SEKULA, Engineering Consultant, San Rafael, CA
I whizzed through Man in the Middle, which is a ripping good read. As a story for our times, I trust it will become the best-seller it deserves to be. From the opening chapter, which has an awesome impact, the story really does sock it to you. The characterisations were very strong and the description of the banking environment was so atmospheric it brought back (mixed) memories. The amazing thing, in my experience, is that these guys aren't so much immoral as amoral. They don't understand why pursuing money at virtually all costs is wrong.
— ROBERT MILLINGTON, Investment Analyst, Government of Singapore and former Managing Director, CSFB London England
"Man in the Middle is a book you won't want to put down. Kenneth Morris weaves a story of Wall Street trading and corporate misconduct that is intriguing and timely."
— LEIV LEA, CFO, NASDAQ-Listed Biotech Company – San Francisco, CA
Kudos on Man in the Middle. I loved the characterization of Peter Neil, and I was able to perfectly visualize the San Diego setting. Though Im an avid reader of thrillers/mysteries/intrigue, I knew little to nothing about finance and the stock market, so I was afraid I'd have a difficult time understanding the jargon. But Man in the Middle managed to explain things by way of Peter's training. Thank you! The book made for such enjoyable reading that I look forward to those that follow.
— LUANNE MCINERNEY, LAGUNA NIGUEL, CA
"Man in the Middle is gripping and enthralling. The reader can empathize with the novel's hero, Peter Neil, who turns out to be both ordinary and extraordinary. Author Kenneth Morris has created a thrilling story with an intricate and unique plot and characters that are both admired and hated."
— RICHARD A. MILLER, M.D., President and CEO, PHARMACYCLICS (SYMBOL PCYC)
I spent 17 years on Wall Street, and Man in the Middle immediately took me back to my first days on the trading floor — the frenetic pace, the machismo, the seduction of outsized sums of money immediately gained and lost, and the ambition it spawns in all who work there. Peter Neil is a believable protagonist, and we sympathize with him as he quickly uncovers the blurred line between good and evil, especially when so much is at stake. In the wake of Enron and Worldcom, Morris' first novel is uncannily prescient of the current travails of corporate America. Morris has the ability to simplify the most complex financial transaction, and, with his insider's view, takes us on a fast paced ride through the world of global capital markets and Wall Street, the heart of capitalism. He reminds us that greed is an unenviable taskmaster.
— SUSAN GILBERTSON, Head of Equity Research , International Banking Firm, New York, NY
I've just finished Man in the Middle and was thoroughly impressed. It is a well-told story with beautifully crafted and descriptive language. Dynamically paced and unquestionably authentic, its written by a first-time author whos destined for the big-time! Who'd a thunk it?
— CHARLES GOYETTE, KYFI Talk Show Host, Phoenix, AZ
Man in the Middle was riveting. After the first few chapters, I simply couldn't put it down. One night I sat in the bathroom of the hotel –so as to not disturb my family to find out how all the pieces of the puzzles would fall into place. It was a fine combination of Wall Street intrigue sprinkled with just enough romance to capture the attention. I particularly liked the generational connectivity — the reader has to wait until the last pages to figure out how it all came together. And I thought the character development was spot on.
— LISA GIUFFRA DIAZ, V-P, Global Equities, Goldman Sachs
I very much enjoyed Man in the Middle. The characters are well-drawn, the situation is suspenseful, and the background–the world of stock trading into which Peter Neil plunges–is really fascinating. It occurred to me as I was reading that this is a world as bizarre and fantastical as any fantasy setting, and similarly divorced from the ordinary world of everyday; the forces manipulated are as mysterious as sorcery. The author has done an excellent job of making it all comprehensible (at any rate I comprehended it, and I'm a real financial dunderhead), and also of portraying its incredible amorality. The dialogue was especially good contemporary dialogue is awfully hard to get right, and he did. Man in the Middle will also make a terrific film.
— VICTORIA STRAUSS, Author, THE GARDEN OF THE STONE (EOS), Legendary Writers' Activist and Creator/Hostess of WRITER BEWARE
I really enjoyed Man in the Middle and thought the story quite gripping. Having been on Wall Street for more than twenty years and seen a lot of strange characters, the ones in this book were very credible to me. The writing style is very fast paced and very visual. I felt I was watching a movie. Good luck with this terrific and thrilling read.
— BILL O'LEARY, Managing Director, Morgan Stanley, San Francisco, CA
Reading Man in the Middle was quite a delight. What I liked most was the dialogue it really crackled the skillful descriptions of settings, and the plot intricacies, which managed to include murder, drugs, trading scams, old friendships gone wrong, romance, adultery, and a pretty fabulous locale. Wow!! Author Ken Morris did a great job of getting under the skin of Peter Neil. Had I not known better, I would have guessed that Morris must be a 28-year-old male from Southern California Neils expressions, habits, and demeanor were spot on. It is also refreshing to find a financial thriller in a world where so many books revolve around the legal profession. Today's headlines truly demonstrate that the world of finance is not without its villains. And the author really does know his stuff. It is great to see such an exceptionally talented individual expand his efforts to writing, and achieve such exciting results.
— HELEN MCGOWAN, Former Syndicated Loan Vice-President, ABN Bank (Denver, CO)
"Man In The Middle–a terrific read with excellent character development–manages to be both thought-provoking and captivating at the same time. Brilliantly, the novel deals with the complexities of Wall Street on both a personal and technical level such that all readers–not just those in-the-know–will readily understand. And the constant balancing of values and ethics, compounded by the great pressure on Wall Street to make money at all costs, is fascinating and real. Reading Man in the Middle made me realize that dealing with one's greed and temptation is a struggle that people face every day, not only on Wall Street but in other careers as well. This is a great book, and I am looking forward to Ken's next novel."
— PAUL LOUNTZIS, PRESIDENT, LOUNTZIS ASSET MANAGEMENT, LLC (WYOMISSING, PA)
Man in the Middle is a fascinating, exceptional blend of fiction woven around the seamy side of Wall Street! I absolutely loved this book. Just loved it.
— DAN FITZPATRICK, Publisher of "THE STOCK MARKET MENTOR" Newsletter and Writer for REALMONEY.COM.
Though I normally read only non-fiction or books of social commentary, I thoroughly enjoyed reading Man in the Middle. The novel captures with great realism the elements of north San Diego County and San Diego City, and the descriptions of Del Mar and Torrey Pines Science Park were extremely accurate. I especially enjoyed the fact that the mystery was how Peter would get off the hook. From that point on, I had a hard time putting the book down — it was that emotionally grabbing.
— DAVID DRUKER, MAYOR, DEL MAR, CA