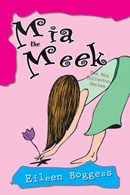 Mia Fullerton has entered her freshman year at St. Hilary's with a goal: to lose her nickname "Mia the Meek," and soar into a confident high school career. Unfortunately, her transformation is made harder by her English-teacher mom, bratty little brother, already popular nemesis, and new neighbor. Although she's prepared herself for the battle by reading Excruciatingly Shy: How to Defeat Public Fear and Become Popular, her freshman year remains a series of uphill battles.
The week before school starts, Mia wakes up to discover new neighbors have moved in next door. Forced by her mother to take them her special chocolate chip cookies, Mia first encounters Tim – the handsome yet seemingly arrogant oldest son of the family. Their relationship develops based on competition – from literature to the basketball court – and Mia's got her work cut out for her.
School begins and Mia immediately meets with all sorts of (often humorous) challenges – from having a locker right next to her arch-enemy Cassie, to being paired with Tim for science lab, to having her mom as her very own English teacher. Before she knows it, her best friend has nominated her for class president, and, what's worse, she's running against Cassie! Mia embraces her nomination when she learns that her crush, Jake Harris, has seconded it. After all, what better way to emerge from her shell?
As the year goes on, Mia deals with all the things girls her age face. She becomes class president – with the help of an improvised speech and unconventional catch phrase – dates Jake Harris, helps lead her team in the Academic Quiz Bowl, and tries to balance her new friends with the old. In the end, Mia emerges a far different person than when she set out, though it may not be the person she had imagined that first day at St. Hilary's. She's a Mia in progress, learning from her mistakes and welcoming her future.
In Mia, author Eileen Boggess has created the best kind of modern female role model – the kind who sees most of her flaws and wants to change them; one who's not only intelligent but athletic; and one who's trying to find her way through a very awkward time in life. In telling her story, Mia proves to be a witty, quick, candid, and interesting fourteen-year-old.
So, if you're looking for a great young adult novel to read, Mia the Meek is a fantastic choice. It's clever, honest, and full of laugh-out-loud moments.
Mia the Melodramatic will be the next installment of the Mia Fullerton series.