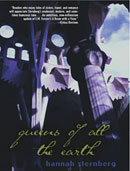 As her freshman classmates move into dorms at Cornell University, Olivia Somerset suffers a nervous breakdown. When months of coaxing and analyzing fail to rouse Olivia from her stupor, big sister Miranda decides the sisters should fly off to Barcelona for some "vacation therapy."
After a mistake at their Barcelona hostel puts the Somersets in a large co-ed dorm room, Olivia and Miranda are saved by kindly Mr. Brown and his son Greg, who happily volunteer to surrender their private room. But while Olivia feels an instant connection with brooding Greg Brown, Miranda sides with fellow guest and cocky American travel writer Lenny, who believes the Browns are just plain weird, and must be avoided at all costs.
In the midst of an urbane priest-in-training from Peru and hordes of Scottish soccer fans, from the shops of La Rambla to the waters of the Mediterranean to the soaring heights of Montjuic, Miranda works to protect her still-fragile sister while Olivia struggles to understand her burgeoning adulthood, her feelings for Greg, and the fear that makes the next step in her life so impossible to take.
Inspired by E. M. Forster's classic novel A Room with a View, debut author Hannah Sternberg's Queens of All the Earth is a poetic journey of young love and self-awakening set against the beauty of Catalonia. Adults and teenagers alike will be riveted and moved by this literary coming-of-age novel about the conflicting hearts and minds of two very different sisters.