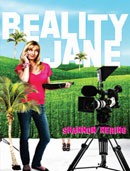 Reality Jane follows Jane Kaufman, a Canadian journalist who, by stroke of pure luck, finds herself in LA, a producer on a hot new reality show. A small-town girl thrust into the Hollywood scene, she regards her new producing career as a one-way ticket to the big-time. And between mingling with rock stars, attending Grammy parties, and visiting the Sex Kitten Mansion, Jane's rocketing career makes her the envy of her friends.
And there's more! Along come not one but two guys vying for her heart, and then, through connections, she lands the cherry gig of all time: a producer's post on TV's hottest new self-help talk show. But the deeper Jane ventures into reality TV, the more completely un-real her life—personal and professional—becomes.
Lead character (and narrator) Jane embodies the perfect blend of smart-ass sarcasm, weary cynicism, and hopeful romanticism to appeal to today's readers.
She also possesses a biting, acerbic wit that casts devilish, laugh-out-loud observations on the Hollywood scene, which are sure to please celeb watchers and reality show junkies alike. A hugely entertaining glimpse at the world of reality TV from one of its own who's lived and breathed the business practically since its inception.
According to . . .
—Jodi Roth, Senior VP, Specials, CBS Television Network
"To anyone who's ever wanted to 'make it,' Reality Jane shows you why to go for it, where to get it, how it looks when you get there, and when to turn and run the other way. In a business we call fluff, Nering finds meaning, all while making you laugh. Whether you're an insider or just a curious fan, this is a super fun read. And you'll love it!"
—Steve Santagati, President of Bad Boys Finish First Inc., TV personality and best-selling author of The MANual
"Read this book now! Jane puts the 'real in Reality Jane and it's proof that the stories behind the lens are infinitely more interesting than the ones in front of it—even when it is reality TV."
—Barrie Bernstein, Co-Executive Producer, The Real Housewives of NYC
"Reality Jane is my hero! As a television insider, I consider this my favorite fictional account of the biz yet. Uncannily accurate and over-the-top surreal, it had me giggling and simultaneously wondering the personal price of a run up the ladder in glam-town Hollywood. Good fun for sure!"