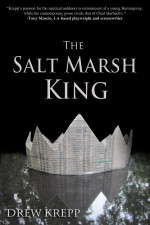 A modern reimagining of Shakespeare's King Lear, by debut literary novelist Drew Krepp.
As their powerful father, his memory rapidly deteriorating, prepares to recede from the North Carolina-based seafood empire he founded, Henry O'Reilly's two oldest sons conspire to force him into early retirement and to take over the company. When, however, they actually begin to carry out a plan that takes unfair advantage of the mogul, the brothers' lust for power leads to stormy and terrifying battles, with the youngest son Patrick unwillingly thrust in the middle, despite his lifelong desire to chart his own course as a builder of docks.
In Drew Krepp's epic, imaginative, and highly relatable retelling of Shakespeare's King Lear, the hero is Patrick O'Reilly, whose estrangement from his family over his blue-collar career choice and his reluctance to "get involved" threaten the stability of not just the family business, but the entire company-dominated town. Patrick is a simple, straightforward young man who's easy to like and understand. As greed, cowardice, and petty spite destroy those around him, and he proves himself no match for the scheming of others, Patrick's fundamental decency emerges in stark relief.
A work of striking prose and rare intensity, and a present-day companion to the Shakespeare classic, The Salt Marsh King has an almost fairy tale feel to it, whimsical yet momentous even when describing slam-bang board meetings and your out of the ordinary bar fights. Krepp elegantly winds simple but layered language around good men and bad, making them into heroes and villains on a grand scale. It's symphonic storytelling at its best, and readers will be swept up in its highs and lows.
The Salt Marsh King is a seemingly understated yarn that somehow manages to gather power through a series of small moments, much like the gathering, early-chapter clouds erupt later into the mother of all storms. When the final showdown comes, readers are guaranteed to be on the edge of their seats.
In sum, The Salt Marsh King opens up a world of new ideas in an old, familiar tale many of us thought we knew. There's something so satisfying about discovering nuances that must have been there all along, just waiting for debut novelist Drew Krepp to present them to us. Bringing the power of King Lear to bear on modern sensibilities and contemporary issues, The Salt Marsh King is not just a superb, highly inventive reintroduction of a timeless classic, but a fascinating story beautifully told.
Early Praise for The Salt Marsh King:
"Drew Krepp's fine first novel, The Salt Marsh King, shuffles a deck of wealth, power, betrayal, and family secrets and then deals us lucky readers a royal flush—with suspense and tension ratcheted up degree by degree, page by page. Along the way, Mr. Krepp masterfully describes places that you smell and feel while he weaves themes that touch on the nature of time and our trajectories in it."
–CLYDE EDGERTON, AUTHOR OF FIVE "NEW YORK TIMES NOTABLE BOOKS OF THE YEAR," INCLUDING THE NIGHT TRAIN, SOLO, AND WALKING ACROSS EGYPT
"The explosively entertaining Salt Marsh King is a captivating story mixed with strikingly poetic elements. Krepp's passion for the nautical outdoors is reminiscent of a young Hemingway, while his contemporary prose rivals that of Chad Harbach's. It's a fascinating novel that will make you see Shakespeare's King Lear in a whole new light."
?TONY MUSCIO, LA-BASED PLAYWRIGHT AND SCREENWRITER
"Drew Krepp is an impressive young writer who's weighed in with a powerful and thrilling debut novel. Saturated with details of place? you can smell the ocean and see the marsh?The Salt Marsh King also delivers the high drama of a strongly rendered Oedipal conflict. A great read."
?DAVID GESSNER, AUTHOR OF RETURN OF THE OSPREY, CALLED BY THE BOSTON GLOBE A "CLASSIC OF AMERICAN NATURE WRITING"
"Drew Krepp understands the meaning of work, how it starts as a living but soon becomes a way of life, making us narrow or open-minded, callous or compassionate. Lear may be his jumping off point, but The Salt Marsh King is all his own, a taut and emotionally powerful story that demonstrates precocious talent. Krepp is definitely a novelist to watch."
?ROBERT ANTHONY SIEGEL, AUTHOR OF THE NOVELS ALL WILL BE REVEALED AND ALL THE MONEY IN THE WORLD
"Salute the start of a great career. Drew Krepp boldly steps into the long storytelling tradition of the novel, and this book reads as if Steinbeck took a long walk with Pat Conroy, discussed Shakespeare, and dreamt up this big beautiful book. The story winds around and cares about everything?family, loyalty, manhood, friendship, business. A brilliant debut."
?REBECCA LEE, AUTHOR OF BOBCAT AND OTHER STORIES, A FINALIST FOR THE 2014 STORY PRIZE