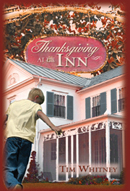 "A touching story of family and forgiveness for fathers and sons everywhere."
—Sol Nasisi, Founder, TheNextBigWriter.com
"A heartwarming story about family, filled with colorful and unforgettable characters."
—Michele VanOrt Cozzens, author, A Line between Friends
"St. Ignatius, the founder of the Jesuits, felt that ingratitude was the greatest of sins. The quirky characters who gather around the Thanksgiving table at the Sleeping Inn help each other learn the true meaning of gratitude. As they face their struggles, they teach each other — and us — to be grateful for life's many blessings. It's easy to give thanks for this timeless, heartwarming, and inspiring tale of fathers and sons and the strangers in their lives who become our friends."
—Rev. William R. Campbell, S.J., President, Cheverus High School, Portland, ME
"Told through the eyes of young Heath, this is a story of family values, of coming together, and of learning life lessons too easily forgotten in the bustle of the computer age. It has the warmth of a Hallmark Hall of Fame movie, and the feel of a timeless classic."
—John Klawitter, Former Longtime Disney Executive and Author, Hollywood Havoc Book Report
"A delightful, well-written novel and easy, light read that pulls you into the story with descriptive visuals and gently suggests profound lessons to be learned."
—Kieba-Dawn Blacklidge, Life Coach, BodyTemple Boot Camp
"When I read a book that is well-written, with good character development, I find myself totally connecting with, or rooting for, one of the best-drawn characters. I felt so attached to Heath. I was sucked into him from the very first sentence."
—Carol Sebastian Cisek, High School Teacher, Springfield, MA
"Several of us here have now had the opportunity to read the manuscript, and we are all huge fans of Heath's voice, which we find to be authentic, sympathetic, and engaging. We think that the conflict between father and son is highly relatable. And we are enthusiastic about the overall quality of the prose."
—Anne Heltzel, Penguin Young Readers Group, Razorbill Editorial
"A must read . . . a true family classic!"
—Kevin Kelley, Principal, Deerfield Elementary School, S. Deerfield, MA
"Definitely enjoyable. I liked the story setting and all the characters at the inn."
—Steve Meltzer, Executive Managing Editor, Dutton Children's Books
"A wonderful coming-of-age fable that will make you truly appreciate what is important in life."
—Dr. Robert T. Goehrke, CEO, Dream Team Marketers Inc.
"The unfolding secrets and the Inn characters were lovely."
—Sylvie Frank, Editor, Holiday House
"Tim Whitney's Thanksgiving at the Inn is a simple, heartfelt, and loving book that everyone will enjoy reading. It focuses on the relationship between a father and a son and how the death of a family member eventually leads them to understand one another better, in turn leading to a better relationship. The writer has done an excellent job of capturing the common, everyday incidents of our lives, and of allowing the reader to connect with his characters."
—Prakash Purohit, President, Naturich Labs, Inc.
"Definitely has some very kid-friendly moments."
—David Levithan, Executive Editorial Director, Scholastic, Inc.
"In this story of hope and healing, a twelve year old boy, aided by the eccentric residents of a New England bed and breakfast, learns what thanksgiving truly means."
—Father John Moriarty, S.J., teacher of church history and spritual director, Blessed John XXIII National Seminary, Weston, Ma
"Heath is a very likeable main character."
—Beth Potter, Assistant Editor, Farrar, Straus and Giroux Books for Young Readers