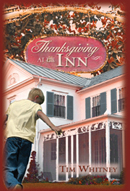 Ever since his mother left, life hasn't been easy for Heath Wellington III. Between his father's (Junior's) bouts with alcoholism and literary rejection, and Heath's own wrongful suspension from school, there hasn't been all that much to be thankful for.
But following the tragic death of estranged grandfather Senior, father and son alike stand to inherit a life-changing fortune . . . with one catch.
Heath and Junior must spend the next three months managing Senior's bed and breakfast, located in the same Massachusetts home Junior has spent the last eight years trying to escape.
Upended from his everyday life and relocated to a town where everyone knew and loved the grandfather he can't even remember, Heath finds an inn full of some of the strangest people he's ever met, such as:
• Winsted, the old, wise Jamaican man who used to lead the prayers in Senior's factory;
• Mrs. Farrel, an elderly woman giving away her late husband's fortune letter by letter;
• Mustang Sally, the muscle-bound, tattooed grease monkey who doubles as a children's author;
• Carter, the silent TV news junkie and secret Harvard graduate.
And at a nearby school is Savannah, Junior's first love, and her adorable, autistic daughter, Tori.
But most of all, there's Junior himself, vinegar to Heath's oil. As Heath adjusts to his new world, what he needs most is to start anew with his father, to understand that Junior, too, is dealing with loss, and to realize that, even in the most tragic of times, there's a lot in life to be thankful for.
Thanksgiving at the Inn is a beautiful story of family and forgiveness, and a sure holiday classic. Tim Whitney's fantastic, heartwarming debut is one you'll want to read with the whole family for years and years to come.