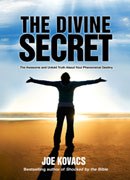 Nook
Why are we all here? What is the meaning of life? What in the world is God actually doing with us? And what really happens when we die?
These fundamental questions have haunted virtually everyone since the dawn of human existence. But what if the answers were already right in front of us? What if they were hiding in plain sight, inside a book you probably already have, the Holy Bible?
The truth is: They are.
There is a divine secret that clearly explains the meaning of life and exactly what is intended for your personal future—and it's more sensational than you've ever imagined. Journalist Joe Kovacs, a Bible-believing Christian and author of the Amazon.com bestseller Shocked by the Bible, explores the truth explained in the Bible itself to unravel what Scripture calls "the secret that was hidden from everyone since the beginning of time."
The Divine Secret: The Awesome and Untold Truth About Your Phenomenal Destiny takes on the biggest questions of all time, including why God created men and women in the first place and what is really meant for everyone in the years to come. It spans countless centuries of God's plan, from the deepest part of antiquity, long before the creation of Earth, to the second coming of Jesus and far beyond. It explores the little-discussed reasons why we exist, why life is so challenging, and what exactly you're meant to do once Jesus comes back.
The Divine Secret also reveals what will likely happen to the many who never heard God's truth during their lives—or perhaps were confused about it. That revelation, drawn from the words of your own Bible, is not what you think. It's not what you've been taught—and it will absolutely stun you.
Special feature: All personal comments from God, even those from the Old Testament, are highlighted in red, which has never been done before in a book of this kind.
Joe Kovacs is ready to present the incredible truth of your phenomenal destiny. It's time for it to be unveiled, understood, and broadcast. It's time to reveal The Divine Secret.