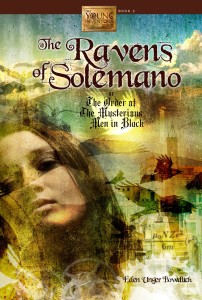 The Astounding World of The Young Inventors Guild returns with the Second Book of the Series,
The Ravens of Solemano, or The Order of the Mysterious Men in Black
The note read simply: They Will Be On The Train…
It has been mere days since the brilliant children of the Young Inventors Guild slipped through the fingers of the horrible Komar Romak. They have escaped with their lovely and caring schoolteacher, Miss Brett; with their long-absent parents; and with their bizarre captors, or protectors, or both – the Mysterious Men in Black. Now they are traveling by train, destined for parts unknown.
But a note in the hands of a dead man in a New York tunnel guarantees that safety is but an illusion. When the children's world is blown open, life will never be the same again.
The children – Jasper and Lucy Modest, from London; Wallace Banneker, from New York; Noah Canto-Sagas, from Toronto; and Faye Vigyanveta, from New Delhi – soon find themselves in the ancient Italian village of Solemano and being pulled ever deeper into a centuries old mystery. As they maneuver ever closer to the truth of the Mysterious Men in Black, and turn out new inventions and gadgets to help on their quest one terrible fact remains clear:
Komar Romak is still out there. He is still after them, for reasons they cannot begin to imagine. And he knows exactly where they are…
From the rolling plains of America to the wide-open waters of the Atlantic, through the Strait of Gibraltar to the remarkable village in the hills of Abruzzo, Italy, The Ravens of Solemano or The Order of the Mysterious Men in Black, the second book of the Young Inventors Guild trilogy, is an adventure like no other.