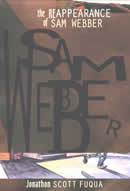 "There's a strong sense of place in this ultimately warm, reassuring novel set in a poor, racially tense Baltimore neighborhood. Sam Webber doesn't like his new home, a smelly apartment light years away form the middle-class area where he spent his first 11 years. Since his father's disappearance, he's felt responsible for protecting his mother, but he's so sad and scared he can't even help himself: druggies and muggers patrol the streets; bullies hound him in school. His only friend is the school's black janitor, who turns out to need Sam as much as Sam needs him. Themes of racism, urban violence, depression, and family structure threaded through the story make the book effective for discussion as well as for independent reading."
–YALSA, on naming "The Reappearance of Sam Webber" a 2000 Alex Award Winner
"A message of hope underlies this captivating tale."
–SCHOOL LIBRARY JOURNAL on naming "The Reappearance of Sam Webber" one of the top five adult novels for young adults in 1999
"A warm, rich novel."
–BOOKLIST, on naming "The Reappearance of ON NAMING to its editor's choice '999 for Adult books for Young Adults
"In a style somewhat reminiscent of Harper Lee's To Kill a Mockingbird or Olive Ann Burns's Cold Sassy Tree, a slightly older Sam relates the events of a watershed year in his life…Sam is a realistic, vivid character…he is often frightened, confused, and lonely. He learns, however, that family doesn't have to be composed of blood relatives, that love comes in various colors and sizes, and what seems to be the worst of circumstances can actually turn out to be a blessing. With so many young adults facing family breakups personally or through their friends, this delightful and captivating story will be a welcome glimmer of hope."
–SCHOOL LIBRARY JOURNAL
"This debut novel…addresses prejudice and overcoming urban fears…The characters present a realistic picture of the trials in a single-parent family…Highly recommended not only for adults and educators but for teenagers living in urban areas."
–LIBRARY JOURNAL
"Sharing football in the park and lunches in the school cafeteria, their [Sam and Greely's] relationship fills a void in Sam's life. As their friendship develops, it also becomes obvious that Greely needs Sam as much as Sam needs Greely A slow-paced story, filled with expertly detailed descriptions of Baltimore and well-drawn characters….YA: Sam finds out there's more than one kind of family in this poignant novel that will attract teen fiction fans."
–BOOKLIST
"A year in the life of a Baltimore boy provides the basis for a formidable portrait of urban American life…A warming exploration…"
–KIRKUS REVIEWS
"A white 11-year-old becomes fast friends with a black janitor and learns about racism, loss, grief, forgiveness and the landscape of Baltimore in this heartfelt debut. Fuqua has a sensitive understanding of the shaky emotional terrain of preadolescence, and he displays a good ear for dialogue and an intimate feel for Baltimore's rowhouses, creaky buses, and broad sidewalks…"
–PUBLISHERS WEEKLY
"An engaging, thoughtful, sometimes painful exploration of the human condition that is recommended for teen and young adult readers, and will hold the interest of older readers as well."
-WISCONSIN BOOKWATCH/MIDWEST BOOK REVIEW
"Jonathon Scott Fuqua's sensitively written first novel displays a true understanding of teen depression while sending the uplifting message that it won't last forever. Nominated for the ALEX Award, which was established by the American Library Association to highlight outstanding adult books for teenagers, The Reappearance of Sam Webber is an engaging, thoughtful read for both teens and parents."
-AMAZON.COM REVIEW
"An affecting account of a boy's abandonment by his dad Pain opens Sam's intelligent eyes, not only to people, but also to the strange and masked beauty of the world, even and especially in a down-at-the-heels, paint-peeling, junk-strewn chunk of it like Charles Village, a few blocks off Baltimore's north-south main drags. In The Reappearance of Sam Webber, community ultimately saves the boy and his mother, Maxine. Ditch and Junie Gordon, a childless florist and his wife, intervene crucially in their lives. So does a black army veteran, Greely Clemmons, a guilt-stung middle-school janitor seeking redemption. Suffering propels Sam and his mentors into empathy for others."
— VIRGINIAN PILOT
"Fuqua's sensitive portrayal of a young man forced to grow up fast will appeal to all ages. The Reappearance of Sam Webber tells a human truth that hope and awareness of what we have will overcome much of life's grief. Out of sad and dark materials, Fuqua delivers a heartwarming and readable story."
— SAN ANTONIO EXPRESS
"The book can help families recognize and cope with childhood depression."
— RICHMOND GAZETTE
"Gritty city streets come alive in this story about a year in the life of an 11-year-old boy."
— ROCHESTER DEMOCRAT AND CHRONICLE
"The Reappearance of Sam Webber…is a study of loss, hope, despair, and ultimate victory over the arbitrary barriers that life often throws in one path."
— DAILY PROGRESS (CHARLOTTESVILLE, VA.)
"In the year after his father abandons him and his mother, 11-year-old Sam Webber has to get used to a lot less money, to a tiny apartment in gritty downtown Baltimore instead of a nice house in the suburbs, to a mother who's often depressed, to his own vulnerability, to his mother's new boyfriend, and to the bully in the city middle school. Sam copes with all this and more [with] lots of help. Some of it comes from Junie and Ditch, who run the mom-and-pop florist shop where his mother works. An unexpected support is Howard, his mother's boyfriend, and above all there's Greely, the janitor at the middle school, who comes to his rescue over and over. Fuqua is an earnest writer who struggles too hard for similes. But this lack of slickness makes the story more intense. The people seem real, and all of them — not just Sam — mature and learn a great deal during the year."
— PHILADELPHIA INQUIRER
"Dickensian in its portrayal of details and characters, this first novel by a Baltimore author is mostly a story of redemption, courage and growth by everyone, and not just eleven year old Sam."
-KIDSREADS.COM (ON AOL)
"Sam captured me on page one. Spending a year in his life and watching him build a new family was a great experience. Fuqua communicates beautifully the landscape of Baltimore as well as of a young boy in turmoil."
–NANCY MAGNUSON, LIBRARIAN, GOUCHER COLLEGE
"Sam, the eleven-year-old protagonist of this fine first novel, has a loving mother who has loyal friends, and he finds a protector at school. And just these few relationships prove to be an entire village that raises this child…I wish Fuqua had written a longer book! He has re-created life in eighties Baltimore…It's a Bawlamer book, Hon-and Sam Webber is going to be a winner!"
–MARY S. DAGOLD, LIBRARIAN, EDITH HAMILTON LIBRARY, THE BRYN MAWR SCHOOL
"Jonathon Scott Fuqua has a wonderfully detailed and affectionate knowledge of Baltimore, its culture and communities, here expressed in both picture and story. A Bildungsroman with a bittersweet twist, The Reappearance of Sam Webber is the sort of novel that can be called 'heartwarming' without irony."
–MADISON SMARTT BELL, National Book Award Nominee, Author of "All Souls Rising and Ten Indians" and writer-in-residence, Goucher College
" The kid who is the title figure in The Reappearance of Sam Webber has transferred into Robert Poole School, in Hampden — the crude, proletarian, pre-boutique Hampden. Sam is a small, fearful kid whose father has disappeared, whose mother is weepy, and whose lifestyle has suddenly gone downhill. When teachers are cold and bullies torment him, does Sam go for a gun? No, he makes friends with Greely, a black school janitor. Humanity wins out, for Sam at least A first novel that's realistic in its depictions of neighborhood grunge and blue-collar shlock."
–BALTIMORE SUN
"The Reappearance of Sam Webber is a vivid novel that makes you feel like you know Sam, and that you've seen him running down the streets of the city. Fuqua's descriptions of Baltimore –from the little greasy spoon diners struggling to stay in business to the rambling rowhouses — are as dead-on as his portrait of an abandoned child. The reader can't help but cheer Sam on as he struggles with the decision to have fun and enjoy life without his fatherA novel that works great on a bus ride around downtown or at home on a lazy weekend, it's perfect for single parents, teachers, teens growing up in urban areas, and anyone who enjoys an uplifting story about acceptance."
–BALTIMORE CHRONICLE
"Ostensibly a book about a young boy coming to terms with the loss of his runaway father, the book also examines other forms of abandonment-and acceptance. The book's narrator, 11-year-old Sam, gets paternal attention from other adults, notably a school janitor named Greely. Events in Sam's gritty new neighborhood-combined with Greely's stories of his life as a black man before the Civil Rights movement-begin to give the boy a more adult understanding of the world. The fabric of city life acts as a sort of emotional safety net for Sam. It eventually dims his hopes that his father will return, but at the same time it opens his eyes to a less idealistic, more reliable view of the world."
– BALTIMORE MAGAZINE
"Do you remember taking the long way home to avoid a bully or a person who called you names? Do you recall wearing the wrong thing, having the wrong shoes, just not fitting in? Yes? Then you'll love The Reappearance of Sam Webber. Sam is a real kid — he's the real kid who still lives in all of us. Moving into a bleak apartment in the Charles Village section of Baltimore in the late 1980's, Sam is thrust into unfamiliar territory and a strange school, and his daily defeats and victories are shared with us. And while Sam and his mother suffer through depression, they emerge from it and discover wonderful new aspects to their lives. As Sam confronts conflicting racial feelings in his loved ones, he is befriended by a black man, a man who teaches him a lot about facing life bravely. Fuqua thus provides one of the most honest accounts of racial tensions in BaltimoreA comforting and wonderful book for teenagers and adults alike."
— THE URBANITE
"A white, middle-class boy discovers how the poor live when his father walks out and his mother moves to a cheap part of Baltimore. Fortunately, there is the guiding hand of a black school janitor and the novel is the story of their friendship."
— FICTION DIGEST
"That Fuqua writes poignantly is putting it mildly. His metaphors are exquisite. He gets more mileage out of simple, narrative vocabulary than do many of the word gymnasts who are writing today."
— TEACHER'S READING RESOURCE
"The passages where Sam describes how his stomach feels when he worries, how he feels when his mom stays in bed — I felt as if Mr. Fuqua was gently explaining to me how my 11-year old has felt. The book reminded me a lot of To Kill a Mockingbird, which is not only one of my favorites, but one which I read aloud to my kids when they were younger. I will pass The Reappearance of Sam Webber along to my 11- and 15- year olds. I think there is a lot here that will resonate with them: how tough school can seem, about loneliness, and about finding out that you do have a family — even if it's not exactly the same as it started out to be."
— READER TESTIMONIAL, AS IT APPEARED ON AMAZON.COM 9/28/99
"I absolutely loved The Re-Appearance of Sam Webber. It has a great plot and is a great subject to write a story about. Mr. Fuqua has really made the book's characters come to life. And he has inserted just the right amount of description. In some books, the description is sort of hard to relate to. In this book, I was able to get an accurate picture of what the author was describing all the time!"
— ADAM BULKLEY, then an 11-year-old fifth grader at the McDonogh School in Baltimore, MD
"A more self-aware Huck for our times, Sam Webber isn't exactly running away, but trying to find his place in the world, and more specifically, in Baltimore, a city whose bittersweet mix of loss and change makes it a moving backdrop for Sam's own transformation. Sam is the slight outsider who seems born to notice stuff. He is endearing, but real, with his eleven-year-old mix of innocence and wariness. The Re-Appearance of Sam Webber should find a welcome home in schools because its characters resonate in the reader's mind: their complexity and authenticity will make for great class discussion."
— RACHEL EISLER, Writer and English Department Chair, Bryn Mawr School (BALTIMORE, MD)
OTHER AWARDS AND HONORS FOR THE REAPPEARANCE OF SAM WEBBER
— The ALEX AWARD
Co-sponsored by Booklist Magazine and the American Librarian Association (ALA) Youth Services Division, the Award is given annually to the 10 best adult books for children.
— NEW YORK PUBLIC LIBRARY'S 2000 BOOKS FOR THE TEEN AGE LIST
The list, in its seventy-first year of publication, selects the best of the previous year's books for teenagers.
— THE AMERICAN BOOKSELLERS FOUNDATION FOR FREE EXPRESSION (ABFFE),
Iin October 1999, listed The Reappearance of Sam Webber as one of two novels in print (adult or YA) — and the most recently published — to best deal with the issue of violence and youth.