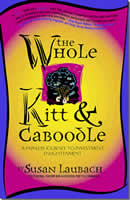 "Do you ever wish that reading a book about investing could be as easy and as much fun as curling up with a good novel? Then I have good news for you. You can do that with The Whole Kitt & Caboodle. This book is written as a novel that follows the journey of Missy Kitt, a young woman studying to become a successful stockbroker at the brokerage firm of Caboodle & Company. You can go along for the ride as Missy Kitt learns about the stock market, how to study companies, and how to plan a portfolio. You know what the best part is? The author weaves the information throughout the story about Missy Kitt, so, with every page you turn, you're learning more about the stock market. And, surprise! Before you know it, you've learned a heck of a lot. This paperback book is only 170 pages and, once you sit down to read it, seems a lot shorter. In fact, I was having so much fun, I was sorry to see it end."
-YOUNG MONEY MATTERS
(a newsletter published by the National Association of Investors Corporation)
"An unconventional storybook approach to finance. Perfect for the novice investor."
–RIC EDELMAN, BEST-SELLING AUTHOR of Ordinary People, Extraordinary Wealth, and of The Truth About Money
"If personal finance and investment education is one of the greatest needs for people of
all ages in this country-and it is!-then Susan Laubach's compelling storybook is
extraordinarily timely and useful. This is the very best kind of teaching and learning
about what counts-in every sense."
–ROBERT F. DUVALL, National Council on Economic Education (President & CEO)
Teacher and portfolio manager Susan Laubach has come up with a well-executed approach to teaching investing basics-a novel. The Whole Kitt & Caboodle follows the lead character, Missy Kitt, from the beginning of her career as a stockbroker. The reader follows along as she learns and then listens in as she dispenses advice to others. An amazing amount of information is communicated this way. Coming from the fictional Miss Kitt, this fairly comprehensive survey is painless and entertaining."
–BOOKPAGE
"There is a sort of unwritten rule I keep with myself. Though I enjoy reading the business section of the newspaper, as well as browsing a variety of financial magazines and books, I leave those publications behind in my home office at the end of the day. But I recently came across one book that I couldn't resist making an exception for. The Whole Kitt & Caboodle, while delightful and easy to read, is also the most well-rounded source of basic stock market information and education I have come across in a single book."
–"BEGINNER'S CORNER," Better Investing Magazine
"From the very first page, Susan Laubach draws pre-teens and teens into the story and short circuits their fear of financial topics. Almost without noticing it, these young readers will effortlessly learn the basic principles of investing."
-GAIL YUMKAS, FORMER DIRECTOR OF CENT$IBLE KID$
(Camp Lemonade Stand and the Money Management Camp)
"In my experience, this is the easiest and simplest way to understand the investment
business, and I've been in it a long time."
-BILL BRESNAN, "BILL BRESNAN SHOW," New York, NY
"I found The Whole Kitt & Caboodle delightfully creative, totally informative, and eminently readable. It conveys information in an interesting and witty way, uses clever reinforcement techniques, and builds on previous knowledge. I call it quintessential education."
-KATHLEEN FEEHLEY, former president of the College of Notre Dame (Maryland)
"Susan Laubach's clever storybook approach to investment fundamentals will serve the reader well-in assessing financial services as well as investments. Heroine Missy Kitt does all the hard work. The novice investor is certain to learn effortlessly right along with her."
-F. JOSEPH BRADLEY, Publisher, Investor's Hotline and Valutalk
"Understanding the stock market is now as simple as reading a story. It is an unconventional approach that works."
-NATIONAL CENTER FOR FINANCIAL EDUCATION
"The Whole Kitt & Caboodle uses an unconventional approach to provide novice investors an excellent, understandable primer on investing. Almost without our noticing, it serves up terrific advice on achieving and maintaining what every investor needs-a balanced portfolio."
-NANCY WERTHEIMER, PRINCIPAL, World Financial Assets Advisory
"The Whole Kitt & Caboodle is definitive in its scope and wonderfully entertaining in its impact. To the novice investor, it presents no small gift."
-DIANA YONKER, Investor Relations, Smith Barney Inc.
"Knowing how to invest is no longer a luxury. One simply must learn the principles entertainingly dramatized by Susan Laubach. A book that so cleverly brings to life the investment process should be required reading in high school economic classes all across America."
-J. CARTER BEESE, JR.,
Former vice-chairman, U.S. Securities & Exchange Commission
"For those who fear financial topics, The Whole Kitt & Caboodle connects. Its
approach is original, engaging, yet responsible. And its main character, Missy Kitt,
turns out to be the Mary Poppins of investing."
-MARGARET F. MCKEAN, Managing Director, Stopler & Co. Inc.
"For the first time in my memory, someone has made understanding the stock market
as simple as reading a story. And, as someone who has spent his whole life in the
communications business, I know how difficult that can be. I applaud Susan Laubach for
making a complex subject so clear, so entertaining, and so relevant."
-RALPH RYDHOLM, Chairman and CEO, Tatham Euro RSCG
"I get hundreds of books on investing. This one is unique, compelling, and clever.
People can relate to its main character. They can learn how to get involved in investing.
They can save time in the process. AndwWhen they're through reading it, they'll want to
pass the book along to people they love."
-DARRELL ANCARLO, HOST, "SONY SUCCESS RADIO NETWORK"
"This book is a great idea."
-BILL GRIFFETH, award winning CNBC anchor and best selling author
"Susan Laubach has brought life to what could be a very dull topic. Indeed, she uses a very creative way to teach people the nuts and bolts of investing. And I don't think she's missed a thing."
-AMY MACLAUGHLIN, Professional Investment Advisor
"I love the book. It's simple and it's fun."
-LOWELL WIGHTMAN, HOST, WCGO RADIO, CHICAGO HEIGHTS, ILLINOIS
"A charming book."
-BALTIMORE SUN
"I read the whole book. And I'll read it again. It was wonderful."
-RALPH SAVIANO, HOST, WCTC, NEW BRUNSWICK, NJ
"The Whole Kitt & Caboodle is a fictional adventure where the real story and goal is
to teach people how to become successful investors. This is no ordinary novel. It is the
most unusual how-to investment book you'll ever read."
-CNBC'S "THE MONEY CLUB"
"The Whole Kitt & Caboodle may be a light, enjoyable-to-read novel, but you get so much from it -like learning a very easy way to invest. I know. Before I read it, I knew nothing about investing and was afraid to get started. Now I'm not. It should have the same effect on the women out there, of all ages, who won't get started because they, too, are fearful of investing. This is a great book that people will want to read! It does nothing less than democratize investing!"
-MARK STEINER, "THE MARK STEINER SHOW," WJHU-FM, BALTIMORE, MD
"EASY to read. Highly recommended for beginners."
-INVESTMENT CLUB, JUNEAU, ALASKA
"A sprightly instructional novel that demsytifies investing."
-BALTIMORE MAGAZINE
"Before today, I'd never had on a book person, but I just loved this book!"
-SUSAN WEINSEK, "THE SUSAN WEINSEK SHOW," WPNT CHICAGO
"Through Susan Laubach's well-executed novel, even non-Americans can successfully speed up their learning curve as investors."
-PRÉSENTATION DU GROUPE COLUMBUS, LAUSANNE, SWITZERLAND
"So you hate reading those dull, dry books on the market, but you still want to know what it's all about? Reading Susan Laubach's The Whole Kitt & Caboodle is like taking candy-coated cough drops. It's not only painless, but delicious. And, even though I was a trust officer buying stocks many years ago, I still learned a lot from this fun fiction. Kitt became a friend and I was fascinated to watch how, with energy and determination, she developed her career. Laubach knows how to get across dull material in an interesting and crystal clear way. Now to put it to work and earn some money"
-AN AMAZON.COM READER
"I thoroughly enjoyed the book. It's a great way to interest high school students in economics."
-BOB JAMES, Director of Economic Education, California State University
"It's a pleasure to discover someone who can present a body of helpful information in a reader-friendly way. If, like many of us, you feel mostly at your broker's mercy, Susan Laubach'sThe Whole Kitt & Caboodle is one storybook you'll definitely want to read."
-EXECUTIVE BOOKSHELF
"I recommend it to public school students grades 5 through 12 who play the Stock Market Game."
-WILLIAM C. WOOD, ECONOMICS DEPARTMENT, JAMES MADISON UNIVERSITY
"Want to get rich, or at least learn, painlessly, the ABCs of investing? Then pick up a copy of The Whole Kitt & Caboodle, the first fictional story to teach the basics of investing. For the investment novice, this eminently readable book is extremely valuable and entertaining."
-DELAWARE COUNTY TIMES
"I read it cover-to-cover on a recent trip. Well-done!"
-DAVE NELSON, Economics Department, Western Washington University
"I'm taken with how it simplifies concepts."
-JOYCE COUCH, Federated Investors
"There is a book you may find very helpful if you or someone you know wants to learn about investing. The Whole Kitt and Caboodle, by Susan Laubach, is about Missy Kitt, a young woman who wants to be a stockbroker. The book takes you, as a novel would, through her experiences explaining the stock market and how to plan a portfolio.
Young people should be exposed to this book so they can learn stock market terms in as easy-to-understand way. If they learn it while they are young, just think how successful their long-term investing will be. READ AND GROW!"
-NITA ROYAL, North Carolina State University
"Missy Kitt, rookie stockbroker, is beginning her career at Caboodle & Company. The only hitch is that she knows next to nothing about investing! As our spunky heroine learns the ropes, so do we. The Whole Kitt & Caboodle is really an investment primer disguised as a novel. The story of Missy Kitt (from Backhoe, Nebraska) and her rise to power at Caboodle & Company is told with delicious humor. As Kitt develops her trademark "Four Season" portfolio, she astounds us and her colleagues with how easy she makes it sound. Along the way, we learn all the basic concepts and tools of the trade-painlessly! Kitt is fun to read and easy to understand-guaranteed to delight and enlighten young adults and novice investors of any age."
-AMANDA STOUT (TOPEKA, KS.) ON AMAZON.COM