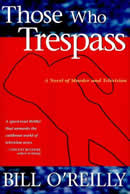 A TV journalist-turned-serial-killer is on the loose, stopping at nothing to exact revenge on those who've sabotaged his career-on those who've "trespassed against him." In cold but creative fashion, he carries out "righteous slaughter" on a "big-footing" network news reporter, an axe-happy corporate manager, an amoral TV consultant, and a news director hell-bent on producing soft news and spiking ratings.
First to be suspected as the killer is Shannon Michaels, a once-promising correspondent in the Falklands War whose hopes for a career in TV news were dashed when he violated the rules of the game. Also under investigation is jaded, hard-drinking David Wayne, another TV journalist whose career has been derailed by the personal betrayals and corporate machinations of the TV news world.
Tommy O'Malley, a tough but warm-hearted New York City detective, is assigned to crack the widening, high-profile murder cases, but encounters competition from a beautiful and tenacious tabloid reporter, Ashley Van Buren. As the story unfolds, Tommy and Ashley quickly discover they've got much more in common than a knack for crime-solving!
Suspense, action, psychodrama, and romance-all unfold as the two try to catch their man. Along the way, readers are transported to numerous exotic locales, from Argentina to Fort Lauderdale, from Ireland to Long Island. They also gain fascinating, authentic glimpses of the TV news business they rely on daily, but have only seen from the outside-until now.