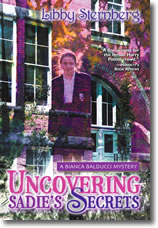 Allow us to introduce Bianca Balducci, a normal fifteen-year-old girl attending a co-ed parochial school in Baltimore, Maryland. She worries about her hair, her clothes, her would-be boyfriend Doug…And solving real-life mysteries?
That's right! Watch out Nancy Drew, Bianca is on the case and this case revolves around Sadie Sinclair, the new girl Bianca has gone out of her way to befriend, only to discover that she's more than a little odd, and hiding something really BIG!
Did someone actually see Sadie, who's only fifteen, driving a car? Why did she freak out at the idea of playing the lead in the school play? And why is Sadie being stalked by a nefarious duo of grown-ups?
To figure out what's causing Sadie's perpetual weirdness, Bianca enlists the help of her private-eye sister Connie, her best friend and planner extraordinaire Kerrie, and eventually her boyfriend-in-waiting Doug.
Before too long, Bianca & Company realize that Sadie is involved in something quite serious, and Bianca, unable to contain her desire to know the truth, finds herself tangled in more and more messes, with almost no time left for homework, or for the dreamy Doug. Just before time runs out on helping her new friend, Bianca finally uncovers Sadie's secrets, and, in the process, learns a lesson or two that all do-gooder sleuths would benefit from learning themselves.
Combining slapstick with intelligent wit, Uncovering Sadie's Secrets is a delightful, thoroughly entertaining mystery that pulls, grabs, and sticks while providing laugh-out-loud moments and smiles throughout.