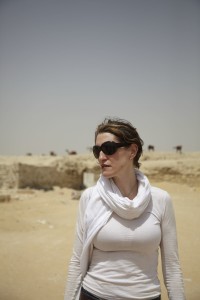 Invite the Author: Click to download the Visiting Author Information Pack for Teachers and Special Events.
Eden Unger Bowditch has been writing since she was very small—in fact, since she could use her brain to think of something to say.
She wrote while attaining her undergraduate degree from the University of California, Berkeley, and she wrote songs as a member of the band enormous.
Eden has been a journalist, as well as a welder, and an editor. She has written stories and plays and shopping lists and screenplays and dreams and poems—and also books about her longtime Baltimore home, like Growing Up in Baltimore and Druid Hill Park: The Historic Heart of Baltimore. She also co-wrote The Daughter-in-Law's Survival Guide: Everything You Need to Know About Relating to Your Mother-in-Law.
When her son expressed disappointment in the impossibility of the magic found in young adult novels, Eden became driven to tell a story about science—the kind of magic that's all around, and the kind people can actually do. The result, The Atomic Weight of Secrets or The Arrival of the Mysterious Men in Black, the beginning of her Young Inventors Guild trilogy, is her first young adult novel. The Ravens of Solemano or The Order of the Mysterious Men in Black, the second of the series, will be available September 24th 2013.
Eden grew up in Chicago, and later lived both in Los Angeles and in Paris. She now lives with her family (husband and three children) in Cairo, Egypt. But that's another story entirely . . .
Her wonderful website for the book is www.younginventorsguild.com where you can play games, and become a Young Inventor!