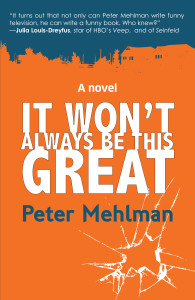 It Wont' Always Be This Great
In the crushing complacency of suburbia, mid-life crises pop in on men's lives unannounced. For one Long Island podiatrist, it takes an impromptu act of vandalism just to make him aware of his own being. Walking home in the sub-zero wind chill of a Friday night, he stumbles on a bottle of horseradish, twisting his ankle, and in a moment of adrenaline-fuel anger, chucks it over his shoulder . . . and through the window of a popular store selling tween fashions. This one tiny, out-of-character impulse turns his life vivid and terrifying, triggering waves of fear, crooked cops, and suspicions of anti-Semitism, both accurate and paranoid.
The story is told by this same podiatrist, an often hysterical, endearingly wide-eyed, and entirely nameless narrator, to what he regards as the perfect audience: a comatose college friend. Yet, our narrator's most unique quality lies simply in his glowing love for his wife Alyse, the girl of his dreams whom he met in college and still can't quite believe he married. She is the mother of his two children, Esme and Charlie, who are just starting to come into their own minds and experiencing their first encounters with prejudice.
Chock full of heart and humor, It Won't Always Be This Great, the debut novel of former Seinfeld writer Peter Mehlman, shows how one man's story is never really his story alone—it's the story of his family, of his friends, of those he neglected, of those he remembers, of his enemies, and of his hopes, failures, dreams, and realities. And how one man's moment of rage snowballs into an entirely new life for him and his neighbors.
Praise for

Peter Mehlman

,
It Won't Always Be This Great
"Very entertaining and wonderful."
Booklist (Starred Review) 
"Funny, deep, warm, and inventive."
New York Public Library
"Written in a completely unique style that creates an intimate bond between narrator and reader. You finish the book feeling as though you've made a new friend."
Aaron Sorkin
"Both laugh-out-loud funny and deeply moving."
Publishers Weekly 
"The Great American Jewish Novel of the Early 21st Century, Comedy Division, and perfect for our times!"
LA Weekly
"Brilliantly funny, effortlessly insightful, and unexpectedly moving."
Steven Soderbergh
"A must read!"
New York Post
"Tight, well-put-together, fun, laugh-out-loud funny, poignant, and thoroughly enjoyable."
Orange County Public Radio (Marie Stone)
"Hysterically funny, wise, fierce, loving, and so insightful. I loved it!"
Rabbi Irwin Kula
"So refreshing?a Seinfeldian story in which the narrator so loves his wife after 25 years of marriage that he thinks he isn't good enough for her."
Mimi Geerges
"A phenomenal, brilliantly funny story from a brilliant comedic mind. In fact, one of the funniest books I've ever read. Do yourself a favor. Read this book. You'll laugh til you cry."
Halli Casser-Jayne
"Fabulous and hilarious. Pick it up TODAY!"
New York Magazine
More from early readers:
"This very entertaining novel (it should be entertaining: it's written by a longtime Seinfeld writer) is a shining example of non-sequential storytelling . . . The book is full of questions that don't get answered right away (even the identity of the person to whom the narrator is speaking is clouded in mystery), and it features, like life itself, a story that seems simple enough until you really get into it. This is Mehlman's first novel, and it's wonderful."
Booklist Starred Review
"It turns out that not only can Peter Mehlman write funny television, he can write a funny book.  Who knew?"
Julia Louis-Dreyfus, star of HBO's Veep, and of Seinfeld
"Anyone who writes for television gets frustrated that they can't write like Peter Mehlman. Now he's going to make novelists mad too. Mehlman's writing style is completely unique, and creates an intimate bond between the narrator and the reader. You finish the book feeling as though you've made a new friend."
Aaron Sorkin, Academy and Emmy-award winning screenwriter, producer, and playwright, whose works include A Few Good Men, The American President, The West Wing, Sports Night, The Social Network, Moneyball, and The Newsroom
"The Peter Mehlman I met in person years ago cannot be the same Peter Mehlman who wrote this brilliantly funny, effortlessly insightful, and unexpectedly moving book. Somebody please tell me which Peter Mehlman I'm supposed to be raving about because I really want to get this blurb right."
Steven Soderbergh, film producer, screenwriter, cinematographer, editor, and director best known for directing critically acclaimed commercial Hollywood films like Out of Sight, Erin Brockovich, Traffic, Contagion, and the remake of Ocean's Eleven
"Peter has an uncanny knack for pinpointing the absurdities of our petty bourgeoisie. It Won't Always Be This Great is funny, astute, and disarmingly humane."
Madeleine Brand, host of the news and culture show Press Play on KCRW-FM, one of Los Angeles' two National Public Radio (NPR) affiliates; and former anchor of NPR's Day to Day
"Peter Mehlman is a terrific writer with tons of personality, depth, and a wonderful sense for seeing the extraordinary in everyday life, as is apparent in his debut novel, It Won't Always Be This Great."
Suzanne Dottino, fiction curator, KGB Bar and Lit Journal, New York, NY
"In It Won't Always Be This Great, Peter Mehlman pokes the ribs of religion, race, law, and culture with lacerating wit and humor. This is a seriously funny comic crime confessional."
Morris Dees, Founder and Chief Trial Counsel, Southern Poverty Law Center
"Peter Mehlman worked in sports for Howard Cosell, wrote legendary episodes of Seinfeld, and now he's written an amazingly funny and heartfelt novel. Unstoppable!"
Marv Albert, Hall of Fame Sports Broadcaster
"During his eight-year tenure as a writer and producer on Seinfeld, Peter Mehlman made the mundane seem hilarious."
The Hollywood Reporter
"American humor would not be the same without Peter Mehlman, a former co-executive producer of Seinfeld and leading television writer and producer."
The Wrap, Covering Hollywood
"Mehlman is profound. Such clever insight comes from looking through the other end of a telescope."
Dick Summer, author, podcaster, and radio broadcasting legend
"Peter Mehlman certainly has a flair for the English language. As a writer for beloved 1990s sitcom Seinfeld, he mainstreamed terms like shrinkage, sponge-worthy and yada yada yada, the last of which has such a footing in pop culture vernacular that it's part of the Oxford English Dictionary. Heck, even Jon Stewart recently used it on The Daily Show."
LA Weekly
"Mehlman's talent for brightening up a room with quick wit, humor, and creativity is one to be admired."
The Etownian
"Most of Mehlman's success . . . has come because he approaches his work in exactly the opposite way most people would. Whether writing for a sitcom that turned the format on its head or conducting a sports interview by basically mocking the idea of a sports interview, Mehlman's career is proof that conventional wisdom is often the enemy of art."
Get in Media
"Thanks to Peter Mehlman, former Seinfeld writer and producer, the terms 'shrinkage' and 'yada-yada' became a part of the popular vernacular."
NPR's Fresh Air
"In nine years on Seinfeld, Mehlman helped alter sitcom sensibility. All of his writing, which is superb, causes you to think, which is what all great satire is designed to do."
Grubstreet
Title Information
ISBN 978-1-61088-135-7 (cloth) $25.00
ISBN 978-1-61088-138-8 (mobi) $9.99
ISBN 978-1-61088-137-1 (ebook) $9.99
ISBN 978-1-61088-139-5 (Audio) $19.99