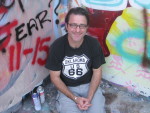 Born and raised in Tulsa, Oklahoma, Mark Falkin graduated from Southern Methodist University in Dallas and then the University of Oklahoma College of Law. He has lived in Texas for the last twenty years, where he is a literary agent and recovering music attorney, having represented platinum sellers and Grammy winners alike.
His 2006 self-published novel, Days of Grace, was optioned for a film and nominated for a literary award, The Needle Award, at POD-dy Mouth blog, where the reviewer said, "This is literature at its best . . . Falkin could easily be likened to the aforementioned Lethem or to Augusten Burroughs or even J.D. Salinger," and Bookpeople in Austin noted, "Here's more proof that Austin is home to some of the best new writers around . . . Falkin's novel is reminiscent of the writing style found in Lethem, Sedaris, Coupland, and Kerouac, with his sharp wit and journalistic style."
Working on his next book, he lives with his wife and family in Austin, where he reads, coaches recreational soccer, tries to find time to paddle Texas waters, and keeps a sharp eye on his young daughters, snatching hugs here and there.