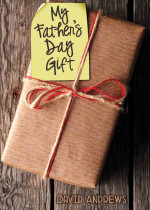 My Father's Day Gift
Johns Hopkins University dean Dave Andrews has spent his entire career studying the impact of adults on the emerging lives of children, and his debut novel, My Father's Day Gift, is a testament to his insight.
In this heartening work of fiction, middle-aged professor Adam, initially pleased to find himself alone for Father's Day, confronts and reflects on memories of the important male role models of his past. The result is a beautiful message about the importance of fatherly influences in the demonstrable character of a man.
A perfect gift for a father or mentor, for Father's Day or any occasion: Have your copy of "My Father's Day Gift" Autographed by the Author, with a personal message for you or someone who has touched your life.
Visit the author's website at www.myfathersdaygift.com
IN PRAISE OF MY FATHER'S DAY GIFT
"My Father's Day Gift is magic. Incredibly well written and compelling, it will have you remembering those in your life who saw something in you before you saw it in yourself. That's what it did for me. Read it. Relish it. Share it."
?WES MOORE, BESTSELLING AUTHOR OF THE OTHER WES MOORE
"In this thoughtful and compelling story, you'll be reminded of your father and of your fatherly influences. You'll also find yourself wanting, more than ever, to be the best father you can be."
?CHRISTOPHER BROWN, PRESIDENT, NATIONAL FATHERHOOD INITIATIVE
"In this inspiring book, Andrews reminds us that it is the accumulation of seemingly small events that shape our deepest affections and values. For anyone who ever spent precious time with a young person and wondered if it made a difference, this book provides a compelling answer. Given its timeless life lessons, this is a book for the ages, not just for all ages!"
?BRIT KIRWAN, CHANCELLOR OF THE UNIVERSITY SYSTEM OF MARYLAND; FORMER PRESIDENT, UNIVERSITY OF MARYLAND, COLLEGE PARK; AND FORMER PRESIDENT, OHIO STATE UNIVERSITY
"As the mother of boys, I've had the privilege of watching them think and feel their way through so many situations from a unique boy's perspective. The societal landscape for boys and girls is different, and their differing perceptions of themselves is also gender influenced. In these stories, I could see many threads from childhood to manhood. I laughed, cried, smiled, and sighed all the way to the end of this book. It is quietly very powerful. Thank you, Dr. Andrews, for sharing it with me?it's a true gift."
?SUSAN MAGSAMEN, AWARD WINNING WRITER, AND FOUNDER OF CURIOSITYVILLE
"Over the decades we've known each other, I've read many things that the author wrote. I read his prospectuses, his drafts of articles, and many of his publications. I've read proposals, reports, and summaries of our work together. Over those decades, I've been continually impressed by the improvements in his writing, but he obviously had one major surprise waiting for me with My Father's Day Gift. I had no idea that he had the ability to communicate so much emotion and meaning in so many wonderful, artfully chosen words and phrases. I've never read a book twice in my entire lifetime, but this is going to be a first."
? DR. MURRAY KRANTZ, PROFESSOR, FAMILY & CHILD SCIENCES, FLORIDA STATE UNIVERSITY