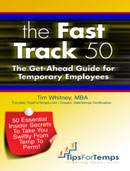 The Fast Track 50: The Get-Ahead Guide for Temporary Employees is a simple system, designed by Tim Whitney, an in-the-trenches procurer of temp services and founder of the organization Tips for Temps. Whitney is an experienced business executive with an MBA in team-building, and his 50 tips, informed by his years of experience, are designed to help any temp get quickly up to speed on any employer's basic team-building requirements, resulting in the ultimate goal: full-time employment. These 50 tips are considered minimum requirements by many of today's employers.
"Tim Whitney has done a great job providing an easy-to-read, valuable, and common sense guide for temporary employees, which will help them be successful in their temporary jobs, and also be important in their building of full-time careers. By the same token, temporary agencies and employers should be able to effectively use this guide to make working with temps a 'win-win-win' proposition, making everyone more effective and efficient."— Bob Ziek, President, ZSource, Limited
"I LOVE this book! It's a wonderful resource, and the pocket guide makes it an ideal size— portable, and filled with great advice and action steps. Tim Whitney's wisdom is spot-on, confidence building, and so applicable to real world scenarios in the workforce. Bravo!"—Caroline Dowd-Higgins, Career Development Coach, Author, Speaker, and Host of "Career Coach Radio," CBS Radio
"My successes have come in large part from moving past the easy to the not so easy with the proper attitude and by gaining the trust of the leadership team. Making for a successful program or individual success in the workplace requires all the skills I have been taught and learned. I have learned that one must separate themselves from the pack and be noticed by having an array of transferable and favorable characteristics that leadership is looking for and can invest in. I fully endorse the material that Tim Whitney has written. The Fast Track 50 tips are accurate and timely for an individual in the modern world of job-seeking."—Craig Savoie
"In this job economy, which will not change very soon, temporary help, unfortunately, is a way of life for more and more workers and employers. Tim Whitney's Fast Track 50 is easy-to-read, comprehensive despite its brevity, and puts everybody right on track. Its attainable set of actions, attitudes, and behaviors identifies specific steps that temps can take immediately to fit in with an existing workforce. If all temps followed these basic, insider team-building rules, companies would improve their bottom line, temp services would reduce turnover, front line managers could spend more time on efficiency, and more opportunities would be created for workers."—Lonnie Howard, President, Foxtail Foods, Cincinnati, OH
"Tim Whitney's Fast Track 50 is a must-read for workers in the temporary work force and a must-have for both temporary agencies and employers which use temp workers on a consistent basis. It is a true win/win/win pocket guide designed to improve the bottom line and to help temporary employees quickly attain permanent employment."— Jerry Dienes, VP of Recruiting and Consulting, GCS, LLC
"As I read these very well-written and appropriate tips, I thought about the temps I have that exemplify these qualities. They stand out day in and day out. If all temporaries follow these basic principles, the end result will be a significant jump in productivity."—Mike Pachko, COO, Nehemiah Manufacturing Company
"Implement Tim Whitney's 'Fast Track 50' and watch your value rise to any company! And implementation means, I believe, that your 'temp' days are only temporary, and 'permanent' employment is waiting just around the corner!"— Paul Frase, Retired NFL Player (Jets, Jaguars, Packers, & Ravens), Founder, The Joshua Frase Foundation, and Financial Services Partner, NY Life Insurance
"The Fast Track 50 hits the nail on the head. I've been working with and hiring temps and people for over 30 years, and we'd all be more successful if we followed these ideas and words of wisdom. Your time to read this will pay you back ten-fold. Good luck on your career journey."—Paul Hill, Executive VP, Philosophy, Inc.
"With far fewer permanent positions available than we've ever seen in the past, today's workplace is very, very challenging for job-seekers. Those who stand out from the crowd are the ones who put the time and energy into making themselves more valuable. From a hiring manager's perspective, author Tim Whitney has been able to succinctly capture and explain the most important qualities employers seek when bringing new people on board. The Fast Track 50 is an absolute must read for anyone looking to quickly increase their value to employers, and ultimately, improve their own quality of life."—Paul Jones, President, Texas Health and Safety, Inc.
"The real 'gold' here is the theme of teaching people how their behavior can make them part of the business' team immediately, rather than being an outsider or expendable resource. A temporary job can be a foothold to a full-time career instead of simply a short-term destination. This little book creates the roadmap!" —Steve Dailey, Business Coach and Mindset Mentor, AchievementBridge (www.achievementbridge.com)
"This is a great, easy-to-follow tool for any employee, regardless of the work environment or the profession. I wish I'd had something like this 10 years ago. It would have saved me lots of work and frustration." —Yolanda Aguirre, Spanish Translator and Quality Manager, NLI
"A greatly insightful and valuable tool . . . not only for temps but for anyone trying to get a job." —Michele Daley, CWP, CWE, Bill Priest Institute, El Centro College (Dallas, TX)
"FastTrack50's upbeat approach gives my students a sense of possibilities and hope. Many of them have not experienced a lot of success in life, and this guide's advice on work attributes that get an employer's attention energizes them."
—Ron Bowman, Employment Coordinator, Richland College, Garland, TX
"Our post-recession economy has caused a lot of fundamental changes in our workforce model, including an increasing reliance on temporary help. For a lot of young people looking to start a career, temping is a way to earn, learn, and generate momentum in building a career. Tim Whitney's book, The Fast Track 50, is a modern-day primer and tutorial that clearly and succinctly serves as a playbook for the temp who has an eye on the future or, as Tim puts it in his first of 50 tips, an 'eye on the prize!' I highly recommend this book for temps, their bosses, and colleagues!"—Dr. Robert Goehrke, CEO, International Products Group, and Harvard PhD