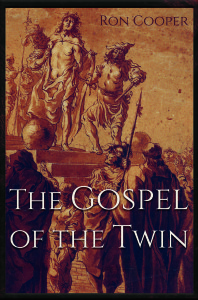 An ancient legend says that Jesus had a twin brother, Thomas. An extra-Biblical text that dates from perhaps as early as the late first century CE (which would make it the same age as the Biblical Gospels) claims to be the secret teachings of Jesus as recorded by "Judas Didymos Thomas." The Greek word "Didymos" and the Aramaic word "Thomas" both mean "twin."
While only several Greek fragments of this manuscript, dating to the early second century CE, actually exist, a manuscript written in Coptic from the fourth century was discovered in 1945. This Gospel of Thomas contains 114 purported sayings of Jesus, many of which resemble passages in the New Testament.
Drawing upon years of extensive research in early Jewish and Christian history and recent work on the historical Jesus, acclaimed novelist Ron Cooper focuses on Thomas of Nazareth, old and bitter after years of self-imposed exile from his homeland, who returns to Jerusalem to write a book about his identical twin brother Jesus. Disgusted by how others have perverted his brother's message, Thomas wants to set the record straight. But in doing so, he must try to unravel the enigma that was Jesus.
Provocative, inventive, and sure to be controversial, The Gospel of the Twin draws upon scriptural and ancient, non-Biblical sources to present an imaginative version of the founding of Christianity through scenes of violence, tenderness, and mistaken identity that will change the way the world thinks about Jesus.
For fans of such books as Zealot: The Life and Times of Jesus of Nazareth by Reza Aslan, Killing Jesus by Bill O'Reilly, and even such Dan Brown novels as The Da Vinci Code, Cooper's The Gospel of the Twin will also appeal to readers of such sophisticated Bible scholars as Bart Erhman, Marcus Borg, John Dominic Crossan, and Elaine Pagels, all of whom have written academic works as well as books more accessible to the general reader.
With The Gospel of the Twin, Cooper provides a potentially controversial, compellingly human, and thoroughly readable page-turner?his own brilliant version of what many call "the greatest story ever told."
Praise for Ron Cooper's The Gospel of the Twin
"Stepping up to the task of reimagining Jesus Christ, Cooper (Purple Jesus) gives him a twin brother, Thomas, and borrows from the non-canonical Gospel of Thomas and other ancient writings to spin a satisfying tale of an enigmatic, wandering spiritual teacher and his followers. Jesus is charismatic, a touch simple-minded, and given to poetry and metaphor, while his twin is a realist, observing with open eyes the duplicity of Jesus's followers, chiefly Peter and Judas, as they spin Jesus's actions into miracles. It's good biblical fiction unhampered by conservative religious sensitivities."
Publishers Weekly
"A compelling and imaginative story of Jesus's life . . . A thoroughly accessible, page-turning adventure marked by the same well-crafted prose of Cooper's other works . . . A deeply thoughtful and thoroughly researched story, one worth a careful reading and time spent in reflection. Cooper's provocative interpretations are sure to anger some readers and intrigue others . . . Whether we accept this version of Jesus's life or not, the novel challenges us to examine our beliefs and the meaning of our lives, a journey into the deep every mature adult must undertake. Even without the magic of miracles, the philosophies attributed to Jesus remain powerful and no less relevant today than in his lifetime."
Southern Literary Review
"If you've ever wanted to know the inside story of Jesus of Nazareth, and feel unsated by all available accounts, then you should direct your attention at once to both the oldest and newest source?Thomas, Jesus's wizened and jaded twin brother, who seeks to part the waters of myth and distortion when it comes to his sibling and limn a portrait that gets to the heart and soul of who and what he's all about. In this tour de force, Ron Cooper builds on his previous spellbinding works, and at the same time shifts gears radically, to spin a mesmerizing tale about Jesus as told through his identical twin's eyes. 'I may be further from the truth than when I began,' Thomas concludes near the end of this tale that treats timeless themes of identity and alienation, of betrayal and overcoming. Yet the heart-rending and mind-bending truths conveyed in this work?a product of extraordinary research, of a most fertile imagination, and of a writer at the top of his game?will have you returning to it time and again."
Christopher Phillips, author, Socrates Cafe: A Fresh Taste of Philosophy
"The Gospel of the Twin is beautifully written, smart, gripping, and richly textured. It's also unlike any other novel I know. Cooper is a superb writer, and a daring one too, and I hope this deeply-felt book receives every ounce of acclaim it deserves. I'll never forget reading it."
Steve Yarbrough, Professor of Writing at Emerson College, and Author of Nine Published short story collections and Novels, Including Prisoners of War, A Pen/Faulkner Finalist
"The Gospel of the Twin is first and foremost an enthralling story about figures many of us have long known in other guises and from other accounts. Ron Cooper has drawn them again, placing them in bright historical framework and spiritual perspective, and illumining them as vivid personalities. He has also offered a new and deeply plausible interpretation of traditional gospel materials. Quite an achievement!"
Fred Chappell, Winner of the Prix de Meilleur des Livres Etrangers, the Bollingen Prize, and the T. S. Eliot Prize